In this previous article, we used an analogy as an example to help understand how job responsibilities fit in with roles, skills and abilities.
Here's that analogy again:
Role: Cleaner
Responsibility: Ensuring floors are clean and attractive
Duty: Polish marble floors in the executive suite
Skill: Operate marble polishing machines
So, we determined that a responsibility is what an employee is held accountable for. Duties can be thought of as tasks performed to fulfil responsibilities. Skills represent capabilities needed to properly perform duties. Easy as 1, 2, 3!
Why are job responsibilities important?
Well, for one thing, they provide clarity about what is expected of employees. They also allow employers to manage employee performance more effectively by ensuring that employees are held accountable for the correct things.
Perhaps, most importantly from an organizational design perspective, well-defined job responsibilities help leaders understand how the division of labour has been applied across the teams and roles within their organization. To put it simply, it helps them see that the business's workload is going to get done and highlights any gaps, cracks or overlaps which might exist.
Where do you list job responsibilities?
Most commonly, job responsibilities are listed as part of job descriptions or position descriptions. Some companies also like to publish job responsibilities in separate, stand-alone documents.
However, the drawback here is that these documents are often hidden away in some obscure file server folder, making it difficult to quickly find the information when needed. And when it is found, it's barely ever up-to-date, often never having been edited since its original creation - which could have been many years before.
A better approach is to use a more visual and interactive format like an organizational chart or role matrix, which makes it easy to see at a glance what each employee's responsibilities are across the entire organization. Tools like Functionly also allow multiple people to access and update this information quickly and easily.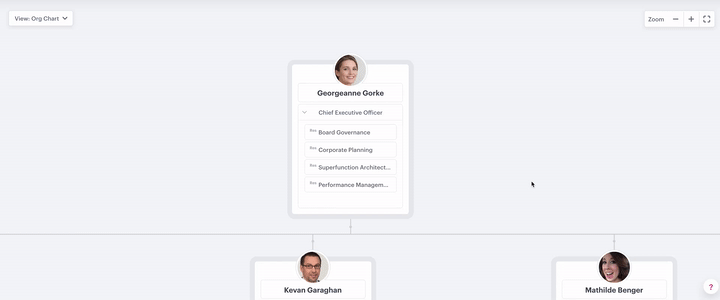 Adding responsibilities from the library to a role in Functionly
Ultimately, the way you list job responsibilities is up to you and will depend on your unique organizational structure and reporting relationships. But whatever approach you take, it's important that the information is easily accessible and up-to-date. If not, being clear with employees or new hires about what they're expected to do and how their performance will be evaluated is difficult.
The big list of common job responsibilities by team / function
It's not uncommon for a manager to be writing up a job description only to think to themselves, "what are the main responsibilities of this job?" A few Google searches later and a bunch of cut-and-pasted text cobbled together, and voila! You end up with some Frankenstein-like job description document.
Within our product, Functionly, we include role template and responsibility libraries. These libraries include many common business functions along with the typical responsibilities of these functions.
Below is a comprehensive list we've created to give you quick access to common responsibilities for many different job functions. Within Functionly itself, responsibilities are broken down even more granularly - listing out multiple tasks or duties per responsibility. If you want to see that - go ahead and try Functionly for free.
In the meantime, here's the list of business functions and typical responsibilities:
Design team responsibilities
Design Strategy
Design System
Design Management
Qualitative Customer Research
Quantitative Customer Research
Problem Definition
Product UX Design
Product UI Design
Product Design Workflow
Product Prototyping
User Testing
Product team responsibilities
Product Strategy
Product Prioritization and Roadmap
Product Data Analysis and Business Reporting
Product Market Intelligence
Product Management (Core)
Product Management (Professional Services)
Product Management (Channel)
Product Management (Shared/Client/Customer Infrastructure)
Product Pricing and Packaging
Internal Product Feedback
External Product Feedback
Product Feature Roll-Out
Product Documentation and Catalogue Management
Software engineering team responsibilities
Product Development Strategy (Technology)
Software Documentation
Software Architecture
Software Development (Frontend Web)
Software Development (Backend Server)
Software Development (Data Layer)
Software Development (DevOps)
Software Development (Client Integrations)
Software Development (Security)
Software Development (Reliability)
Software Development (Toolchain)
Manual System Testing
Automated System Testing
Knowledge Sharing
Quality Assurance
Information Security Architecture Development
Data Integrity
Technology infrastructure team responsibilities
Infrastructure Strategy
Infrastructure Management
Network Administration
Automation
Database Administration
Server Administration
Cloud Administration
Storage Administration
Facilities Administration
Change Management
Incident Management
Security Management
Backup / Business Continuity / Disaster Recovery Administration
Hosting Asset Management and Licensing
Capacity Planning and Management
Brand & communications team responsibilities
Brand and Communication Strategy
Brand and Communications Management
Brand and Communications Operations
Social Media Engagement
Internal Communications
External Communications
Thought Leadership
Brand and Communications Collateral
Employer Branding
Talent Branding
Digital Brand Asset Management
Marketing team responsibilities
Marketing Strategy
Marketing Management
Marketing Operations and Automation
Marketing Analytics and Reporting
Product Marketing
Website Marketing
Growth Marketing
Campaign Management
Content Marketing
Field Marketing
Direct Marketing
Video Marketing
Customer Lifecycle Marketing
Online (Paid) Advertising
Social Media Marketing
Channel and Partner Offering Marketing
Referral Marketing
Merchandising
Marketing Administration
Sales Collateral
Sales (outbound or direct) team responsibilities
Sales Strategy
Sales Management
Sales Operations
Sales Analytics and Reporting
Sales Training and Coaching
Outbound Business Development
Sales Event Staffing
Sales Development
Key Account Acquisition
Sales Data Management
Business Development Strategy
Field Sales
Sales Execution
Sales Contract Management
Sales Performance Incentives Fund (Commission) Design
Sales System Ownership
Sales Process Development
Sales Administration
Professional Services team responsibilities
Professional Services Strategy
Professional Services Management
Professional Services Operations
Product Education and Training
Professional Services Training and Coaching
Product and Implementation Documentation
Project Scoping and Planning
Project and Implementation Management
Third Party Service Management
Hardware / Software Implementation
Workstation Implementation
vCIO Consulting
Account management team responsibilities
Account Management Strategy
Account Management Operations
Account Relationship Management
Account Growth
Account Data Analysis
Account Product Feedback
Account and Agreement Renewal
Quarterly Business Review Management
Client / Customer Reporting
Client Portal Engagement
Account Technology Stack Compliance
Proposal Submission and Quoting
User support team responsibilities
User Support Services Strategy
Operate User Support
Client / Customer Support Feedback
User Support Operations
User Support Coordination
Lab Test Environment
Service Level Management
Human Resources team responsibilities
HR Strategy
HR Management
HR Planning
Performance Management
HR Compensation Strategy
HR Retention
HR Compliance
HR Communications
HR Benefits Administration
Employee Experience
HR Events
Talent Acquisition
Candidate Profile Development
Recruitment Management
Recruitment Administration
Onboarding
Offboarding
Employee Asset Management
Professional Development and Training
Personal Growth
Organizational Health and Safety
Legal and compliance team responsibilities
Legal Counsel and Management
Client / Customer Agreements
Channel / Partnership Agreements
Vendor Agreements
Employee Agreements
ESOP Agreements
Employee Retirement Obligations
Incentive Plan Development
Intellectual Property Management
License and Regulation Management
Insurance and Risk Management
Legal Action Management
Finance team responsibilities
Strategic Financial Management
Finance Operations
Financial Management and Controls
Financial Accounting
Payments and Invoicing
Accounts Receivable
Accounts Payable
Expense Processing
Payroll
Assets and Depreciation
Budget Planning and Forecasting
Cost Management
Financial and Business Performance
Financial Reporting
Cashflow Management and Forecasting
Taxation
Procurement
Inventory Management
Debt and Investment Management
Grant Funding
Treasury Operations
Financial Risk Management
Administration team responsibilities
Self Administration
Administration Process Development
Travel Coordination
Office Reception
Office Administration
Executive Support
Technology business systems team responsibilities
Business Systems Strategy
Business Systems Management
Business Systems Architecture
Knowledge Documentation
Process Design and Improvement Coordination
Business Systems Automation
Business Intelligence Management
User Access Management
IT Platform Management
IT Infrastructure and Management
Business System Backup Administration
Security and compliance team responsibilities
Quality Assurance Management
Security Assurance Management and Audit
Financial Audit and Risk Management
Operational Risk Management
Internal Policy Management
Physical Security Management
Application Security
Business Continuity and Disaster Planning
Identity and Access Management
Encryption and Key Management
Information Systems Security
Data Sanitization and Disposal
Network Security
Organizational Security
Security Threat Management
Internal Change Management
Benefits Audit and Risk Management
GDPR/Data Compliance
IRS/ATO/Local Tax Compliance
SEC/ASIC/Local Investment Regulatory Body Compliance
Software Development Compliance
Incident Response Management
Corporate governance team responsibilities
Board Management
Board Administration
Stock/Share Administration
Investor Relations
Corporate Compliance
Corporate Ethics
Corporate Risk Management
Business strategy and planning team responsibilities
Strategic Opportunity Management
Mergers and Acquisitions
Funding Sourcing and Management
Competitor (and Alternative) Research
Market Research and Assessment (New and Existing)
Planning, Prioritization and Goal Setting
Monitoring and Measuring Key Performance Indicators
Organizational Change Management
Senior leadership team responsibilities
Line Management
Department Management
Executive Management
CEO / General Management
Cross-Functional Team Leadership
Culture Development
Mentorship
Vision Management
Corporate Social Responsibility
Superfunction Architecture