So, you're looking for a job description template? This usually means one of two things:
You're a hiring manager placing a job posting for a new position and you need to quickly generate a job description without starting from scratch....because who has the time to write job descriptions, right?! So, what you might actually be looking for are job description examples.
You're a senior leader or HR leader looking to streamline the way your team creates and places job postings. You want to make the job of writing job postings easier for your staff, and maintain some level of consistency.
Well, you're in luck! In this article, we'll address both of these and get you up and running quick smart.
What is a job description template and why do you need one?
A job description template is a document that provides a framework for creating a job posting. It includes key sections required for a concise job posting, such as the responsibilities of the role, the desired qualifications for applicants, and the information about your company. By using a template, you can ensure that your job posting is well-organized and clearly conveys the expectations of the role. In addition, using a consistent template can help to streamline your recruiting process and make it easier to compare candidates.
Well-built job description templates may even include a library of role descriptions and responsibilities. With these, hiring managers are able to pick and choose closely matching roles and responsibilities to fill out their job description templates. Our organization charting and design solution, Functionly, essentially includes the ability to do this right within the software by utilizing the included role and function libraries.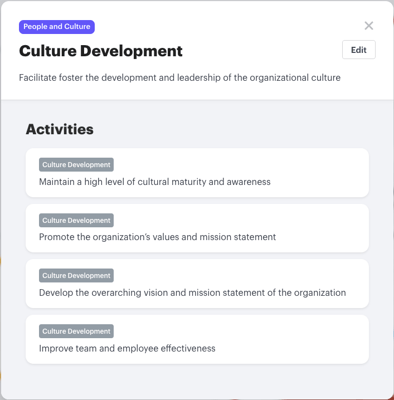 Screenshot from Functionly showing an example of responsibilities from within the role and function libraries (in this case, the People and Culture function and Culture Development responsibility).

Ultimately, a job description template can save you time and effort by helping you create a well-written job posting in order to find the best possible candidate for the job.
5 Steps to create a job description template
A well-formed job description template will help hiring managers provide potential candidates with the information they need to determine if they are qualified for the position and whether it is the right fit for them. Here are a few tips to keep in mind when creating your template:
1. Start with a brief overview of the company, including its mission and values.
2. Clearly state the title of the position and the primary responsibilities.
3. Outline the required qualifications, such as education, experience, and skills.
4. Highlight any preferred qualifications that would be a plus for candidates, but not essential.
5. Include a link to the online application or contact information for questions.
Free downloadable job description template
To make it even easier for you, we've made a template you can download and customise for your own purposes. It includes the details above as well as some example or placeholder data to guide you in customising the template. Go on, download this Word doc template from here.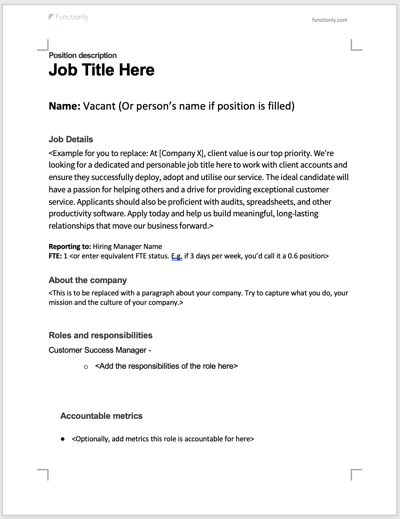 How to use a job description template
A job description template is helpful for hiring managers and HR teams when creating a new job posting. The template should be easily accessible by these staff, such as shared on a cloud storage service or intranet like Sharepoint or Notion. When using a template, it should be read-only, ensuring staff make a copy to save their changes rather than overwriting the original template. The template should include sections, boilerplate information (information that always remains the same) and placeholder information (information given as an example but expected to be replaces with relevant info) with clear instructions on how to customise the content to fit the specific role being hired for.
In addition, the template may include a library of responsibilities that hiring managers can choose from for their specific job posting. Sometimes, this library of responsibilities may be stored outside the template in its own repository and cut and paste into the template - or dragged and dropped as is the case with Functionly.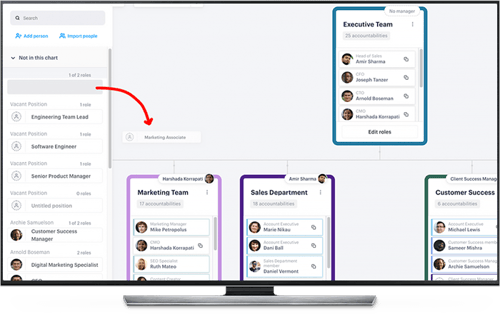 Assigning roles and responsibilities is as simple as dragging and dropping with Functionly.
List of example job descriptions
Sometimes, you're just looking for a quick job description example to get you started. Below we've included a few examples from Functionly's role library, as well as links to other great resources where you'll find mountains of example job descriptions!
Examples from Functionly's role library
Customer Support Manager Job Description
Escalation Support (L3)

Evaluate and assign L3 issues/requests based on the triaging workflow

Customer Support Feedback

Collect and report customer feedback to maintain high customer satisfaction and understand areas of improvement

User Support Operations

Develop the processes and procedures to deliver effective user support
Maintain all the tools, collateral and assets necessary to support delivery of user support

User Support Services Strategy

Set user support goals, objectives and KPI targets
Product Marketing Manager Job Description
Product Marketing

Translate product features into compelling value propositions
Develop targeted messaging based on key segments and personas
Maintain a marketing-specific knowledge repository of the market, competitors and target personas
Support sales and marketing teams to articulate product positioning, messaging and competitive differentiation
Price and package specific products and/or product bundles for long-term revenue maximization

Product Data Gathering and Analysis

Translate product data and feedback into considerations for the product roadmap
Synthesize the information collected from the feedback session(s), generating a number of implications for the product / feature.
Provide reporting for management-level product reviews
Gather internal and external product feedback
Collect and analyze product data and key performance indicators
Sales team example job descriptions
You can download our "revenue org in-a-box" resource which includes more than ten job description examples for typical sales roles created with Functionly, including VP Sales, Chief Revenue Officer and Channel Partnerships Manager.
3 great example job description resources
1. LinkedIn Talent Solutions provides a free library of great job description examples.
2. Workable provides a library of over 1000 job description examples! From Forensic Accountant and Insurance Underwriter to Truck Driver and Shipping Packer.
3. Functionly includes well over 50 template roles including examples of typical responsibilities which can easily be customised. The role templates can easily be exported to Word for posting on job sites or your website. You can also create your own role templates using our extensive functions and responsibility library. Best of all, when you create a role template, it's available for use by all other hiring managers in your company using Functionly!
Get going with Job Description templates
Using a job description template can make the process of creating and editing job descriptions much easier. Job description examples can be a great way of quickly forming a job description if you don't already have an internal library of functions and responsibilities to start with. At Functionly, we provide a tool that makes it easy to create and manage job description templates - among many other organisation design and planning tasks for managers and leaders. So if you're looking for an easy way to get started with your own job descriptions or want to update your current ones, be sure to get started for free today.