If you've recently had to channel your inner graphic designer and put together an invitation, business cards, newsletter or even an organizational chart, there is a good chance you've heard of - or even used - Canva.
Since its inception in 2012, the Sydney-based global visual communications platform has made waves not just in the world of design but also in the business pages.
Founders Melanie Perkins and Cliff Obrecht were far from the only people who saw a gap in the market for a lean, easy-to-use graphic design platform for the average person.
Like many others they realized that the feature-rich, prestige design programmes such as the professional-facing Adobe suite were too complex for the ordinary person to use without significant training.
But, unlike many others who had the same idea, Perkins and Obrecht have translated their vision into a company worth an estimated $40bn (Sept 2021). It was a figure that has made Canva one of the world's fastest growing software companies and the fifth most valuable startup on the planet (behind China's ByteDance, which owns TikTok, payment platform Stripe, Elon Musk's rocket company SpaceX and Swedish fintech firm Klarna).
And there is a nice irony in the fact that beautiful designs have – by all accounts – been partially responsible for Canva's success when it comes to organizational structure.
Canva has come to exemplify an exceptionally "flat" organizational structure. It is the kind of structure that tries to reduce managerial tiers between a company's workforce and their executives to a minimum. A flat organizational structure was a natural choice for Canva as it sought to eschew traditional company hierarchies.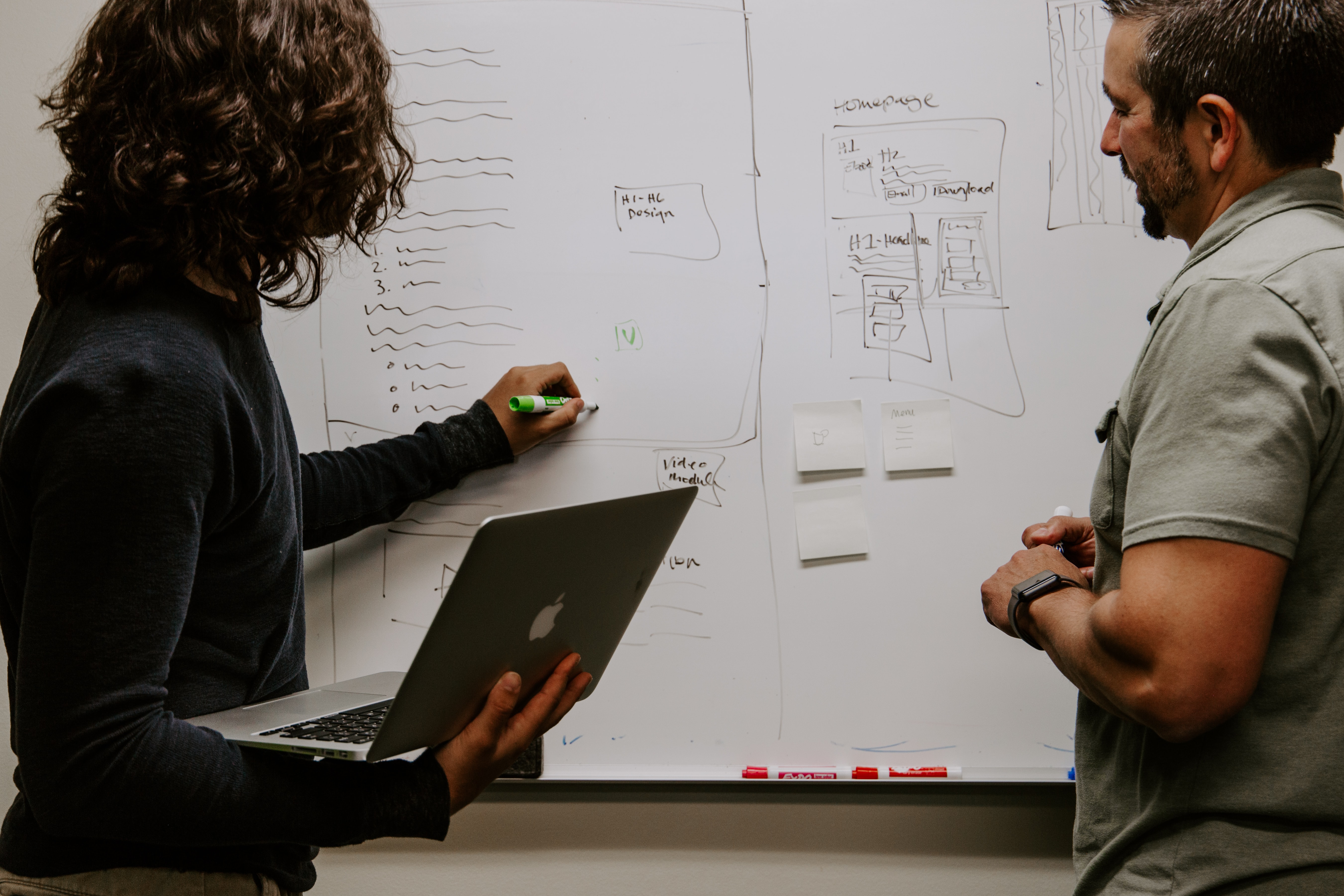 Photo by Kaleidico/Licensed by Unsplash License
Hello to "holacracy"
Since its launch, Canva has pursued what the Australian Financial Review called "a fluid and freewheeling structure", experimenting with a concept known as "holacracy" (1).
"The tenets of holacracy are simple: authority and decision-making rests with the team that is actually doing the work, not with the boss," said the AFR.
Under a holacracy, a lean executive, which stays off the toes of the employees as much as possible, provides a strong guiding vision – so that teams know where they are heading.
The idea of seniority within such an organization is flexible. The person who is a boss one day may be a subordinate the next and boss again a week later. This, according to the theory, frees up employees to concentrate on performance instead of bureaucratic box-ticking.
"There are a lot of assumptions about how companies need to be to work that just aren't true," Perkins told the AFR.

"Internal competition just diverts precious energy away from the stuff that matters."
The danger in such a structure is that teams may lose sight of overall goals. They may, for example, be unaware that they are duplicating work carried out by other teams or moving in a direction incompatible with the wider business.

To combat this tendency Canva developed a series of regular team events based around a "stand-up" meeting every Friday where each team rapidly updated the group on what they were working on and on their progress. To ensure consistency across the organization in specific skills the company also holds regular skill-set catch-ups where all designers or developers will meet to address particular technical challenges.
How to learn from Canva's org chart
What do other organizations need in order to imitate the Canva model? To start with, they require a Zen attitude to notions of corporate control.
In a model like this, it is impossible to know exactly what teams are working on. Perkins says the company's senior executives trust the teams will solve issues in their own way – that often means literally not knowing what they are working on.
"It's about having a clear and exciting vision, and then creating the space and shape for people to make it happen themselves," she told the AFR. And how many executives would feel relaxed, as Perkins did, about removing themselves "from as many bottlenecks as possible"?
But the company's co-founder and COO Cliff Obrecht appeared to have slight reservations about the holacracy model when the AFR article was released.
"Holacracy is like communism, good in theory with some great attributes that should be adopted by all," his Cliff Obi Twitter account (@cliffobrecht) tweeted enigmatically in response.
How Canva's org design method evolved
Even in the early days, Canva was eyeing change. The company had just celebrated winning Australian JobAdvisor's annual Coolest Company in Tech award.
"It's such a fast-growing company, things are constantly having to be reinvented," Perkins told news.com.au (2).
A company that remains best known as a consumer desktop design platform was increasingly moving into a more corporate space via its Canva Presentations workplace product.
This has become the collaboration platform of choice for millions of teams and workplaces worldwide as presentations become the company's fastest-growing use case. So far more than 250 million presentations have been created to date via Canva Presentations -- with 85% of Fortune 500 companies using the product.
But as organizations scale up, they often find they outgrow the flat structure of their early days. Google founders Larry Page and Sergey Brin once completely abolished engineering management, for example. Then, only months later, they ended the experiment because it had led to engineers taking minor administrative queries to the CEO's office.
Therefore it was no surprise when Perkins, Canva's CEO, wrote on Medium.com about how Canva had adapted its organizational structure as the company had grown.
"We've done a really good job retaining the close-knit team feeling of our early days," wrote Perkins (3). "But... we now have more than 800 people across three countries, so the way we worked early on, as one big team, is no longer possible."
Canva's org chart is teams of teams
Perkins described how in late 2015 Canva had adopted a model of small startups: teams of three to six people with their own goals and plan. And she went into considerable detail about a Canva company culture that sought to focus on goals instead of titles and encourages teams to collaborate instead of hoarding information.
"The issue with titles is that they are very rigid — if you were the Director of Marketing a couple of years ago for example, you would have just been directing yourself and your projects at Canva," she said.
"But now we have 100 people playing a role in marketing, from PR to Communications, Social Media management, email marketing and more.
"One disadvantage of leadership 'title' roles at high-growth companies was burnout", she wrote.
"This feels like a pretty big pitfall of a rigid title system."
Canva's solution was to focus on goals rather than titles, noting that when goals, teams and team sizes are constantly shifting, this makes more sense. And in Canva's goal-orientated culture every team chooses a "big goal worthy of celebration" every three months. The essential aspect of goals is that they must be public and they must be publicly celebrated with the company.
"We go to a lot of effort to ensure that each team's goals are visible to the whole company - we stick them on posters on the wall, we send an email around, we speak about them at our Season Opener," said Perkins.
"By making the goals public, it enables everyone to know what's most important and to strive towards the goal together!"
And despite having more than 1,500 employees, Perkins and Obrecht still aim to keep the personal touch – meeting every new employee and explaining the company's vision to them.
If hard-bitten traditional execs might feel like scoffing at some aspects of the Canva model, perhaps the numbers might make them think again.
In April last year, the company announced that it had more than 55 million monthly active users and had seen a 130% year-on-year increase in revenue. Perkins and Obrecht, meanwhile, catapulted themselves into the list of the 10 richest people in Australia.
How to emulate Canva's success
Whatever traditionalists may think of Canva's organizational structure, it appears the company is doing something very right.
One thing we can learn from the best founders is that org structure is ever-changing, and companies are ever-evolving. Perkins understood the importance of continuous, rapid evolution.
Design tools such as PowerPoint and whiteboards with sticky notes have had their day, but to keep up with constantly shifting teams, goals, and people, a certain intelligence is required. That's what we offer here at Functionly.
Leverage what you have learned from real organizations like Canva with purpose-built org chart creation tools. Easily and quickly create intelligent org charts, and bring the entire team together to plan your organization's winning moves. Get started for free, and start drafting your Holacracy org today.
~~
Sources
Companies like Zappos, Canva swap hierarchies for holacracy to come out on top, Rose Powell, AFR, 4 Sep 2015
Canva named the 2015 Coolest Company in Tech, Dana McCauley, News.com.au, 18 Nov 2015
Creating a goal-driven culture, Canva Team, Medium, 24 Apr 2020
Photo Credits
Title header photo: "Melanie Perkins", by Melanie Perkins / Licensed under CC BY 2.0 / Cropped from original