Google's success has been remarkable. In 2016 Google, or rather its newly-created parent company, 'Alphabet', overtook close rival Apple to be ranked the most valuable company in the world.
The company was barely 18 years old. A teenager.
Since then it has never been out of the top three. It is one of a select group of companies that have become such a part of everyday life, their brand is also a verb.
To achieve all this in a volatile business climate meant Google had to organize itself well.
Yet, back in 2002, the Silicon Valley heavyweight was reeling from a corporate disaster. The cause -- a disastrous experiment into the outer reaches of organizational structure.
Google's "flatline" experiment
You may have read about Google's "pancake-flat" structure – where middle managers are as rare as unicorns.
In fact, this reputation is slightly out-of-date. Google's current structure combines elements – but only elements - of flatness within a larger matrix system. This system is also known as the cross-functional – or team-based – organizational structure.
Interactive Org Chart - use tools to zoom, view job details, etc... ©Functionly
Google (Alphabet) uses a cross-functional team-based organizational structure, like a matrix: functionally based, product-orientated and relatively flat. Source Material: 4-week MBA.
The "ultra-flat" reputation largely dates from the early 2000's...
The Harvard Business Review reported that Google founders Larry Page and Sergey Brin wanted to eliminate 'engineering management' from the company (1).
Page and Brin were apparently influenced by the view – common among engineers -- that managers can obstruct rather than foment innovation.
In the technocratic world of Google, the co-founders sought to test the view that without management, their employees could spend their time doing what they did best, programming, rather than wasting time in meetings.
After several months the experiment was in disarray. Unsupervised staff members were forced to go to then-CEO Page himself for answers to basic administrative questions on trifling subjects such as expenses and interpersonal conflicts.
Back on track
In 2013, Google attempted to settle, once and for all, the question as to whether a middle management structure was needed. This time the experiments had the opposite intention than before.
While Google leadership was now convinced a limited tier of management was essential, it needed to convince skeptical engineers.
In a company where any assertion that cannot be measured counts for nothing, the data-driven approach worked.
Google set up 'Project Oxygen', a multiyear research initiative that measured key management behavior and won the staff buy-in it was seeking.
Anecdotal evidence from former employees reported that Google managers generally had to supervise teams of around 30 or more members. The approach was deliberate – with so many direct reports, the idea was, they would be unable to micromanage team members.
One of the few complaints reported among Google employees, however, was that there was little opportunity for career advancement because of the relatively small numbers of managers in the company.
Beyond the Googleplex
With Google's market valuation above $1.9 trillion (September 2021), it has clearly not only survived but prospered despite problems along the way. Its headcount has risen from just two employees in 1998 to 139,995 today.
Those employees are some of the most satisfied on earth. As well as above-average compensation and vacation packages, a now well-known raft of benefits make Google a highly desirable employer.
Free Wi-Fi-equipped shuttle buses carry employees to its "Googleplex" headquarters in Mountain View, California where on-site massages and free gourmet meals, as well as on-site childcare, are among the perks.
In their book How Google Works former Google CEO Eric Schmidt and Alphabet adviser Jonathan Rosenberg wrote: "Our ideal candidates are the ones who prefer roller coasters, the ones who keep learning." (2)
Playing the long game
If a roller-coaster ride is what employees wanted, it was – if they joined in the early days at least – what they got.
Through most of the 2000s, Google was seemingly engaged in a battle for dominance as the world's leading search engine with Yahoo! – a battle it appeared to be losing. Behind the scenes, however, Google's foresight was paying off.
In a tortoise and hare-type scenario, Yahoo!'s server space infrastructure approach allowed it to expand rapidly. But once Google had quietly spent several years developing proprietary algorithms and the platform that it could use as a base for a whole range of services, it leapfrogged its competitor.
Products such as Gmail, Chrome browser, Google Maps and Android were rolled out. We'll forget about Google Glass for now.
What does Google's Current Organizational Chart Look Like?
In 2015, the company underwent a major reorganization as it formed a new parent company, Alphabet.
The idea was for it to become more efficient, to allow Page to step back from day-to-day operations, and to give investors greater transparency about which parts of the company were performing.
Alphabet is formed by two main segments: Google and "Other Bets." The latter accommodates the numerous other parts of the business that have grown over the years including its self-driving car division, its internet-providing hot air balloons and Google Cloud.
In December 2019, Page and Brin stepped down from Alphabet and handed the reins to Google CEO Sundar Pichai.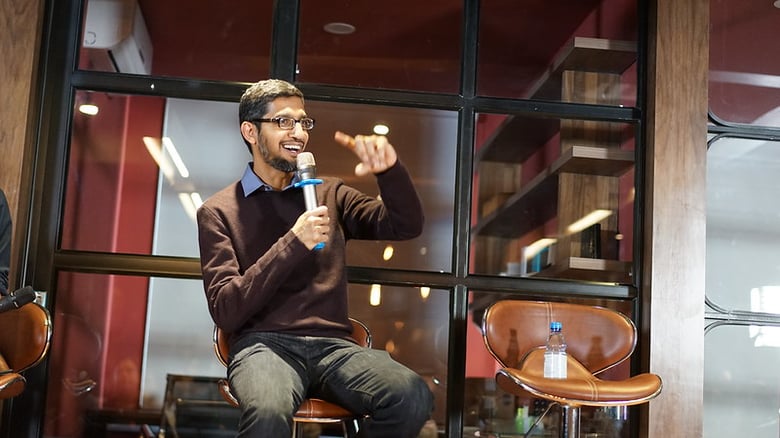 Photo by Nguyen Hung Vu /Licensed under CC BY 2.0
You're OKR, I'm OKR
Pichai is known for being a champion within the organization of the Objective and the Key Results (OKR) system – a system based around each member of staff having clear and measurable objectives – which are intended to be inspirational and engaging.
It was Page and Brin who introduced OKR to Google, but it was Pichai who refined the concept to allow employees to focus on a single goal at any time.
Pichai earned his stripes when he was placed in charge of Google Chrome and fulfilled Google's objective of making it the next-generation client platform of choice for future web applications within three years.
Even to this day, CEO Pichai writes his own OKR goals and makes them known to staff every quarter as part of a system that cascades through the organization.
Google's mission statement is "to organize the world's information and make it universally accessible and useful", and it is notable that the standards by which the CEO's performance is measured are indeed as accessible as those of the lowest-ranking member of staff.
How to emulate Google's org chart success
We can all learn from the best companies in regards to how their org structure has provided the environment for their success.
While they were prepared to change how they organized themselves, and make mistakes, they also learned what worked for them. They had the courage to experiment.

You can also experiment - in a virtual sense - using Functionly's intelligent org chart tools.

Get started free, and start re-creating your org today ->> https://www.functionly.com/pricing

Sources:
How Google Sold Its Engineers on Management, David A. Garvin, HBR, Dec 2013
How Google Works, Eric Schmidt, 2017
Photo Credits
Title header photo: "Google Logo in Building43", by Robert Scoble / Licensed under CC BY 2.0