While Amazon may not be everyone's favorite company, its ability to scale fast has been fed by a purposeful organizational and work design. Moreover, it all stemmed from an unlikely source…

When Amazon founder Jeff Bezos sought the answer to a particularly tricky problem – how to ensure his fledgling company had an agile and scalable structure - he did what many of us might do. He turned to pizza.

No, Bezos did not kick back over a thin crust pepperoni and decide that the problem was insolvable. Instead, the role of everyone's favorite cheesy comfort food was to provoke an idea that revolutionized thinking around organizational structure – Amazon's famed "two pizza rule".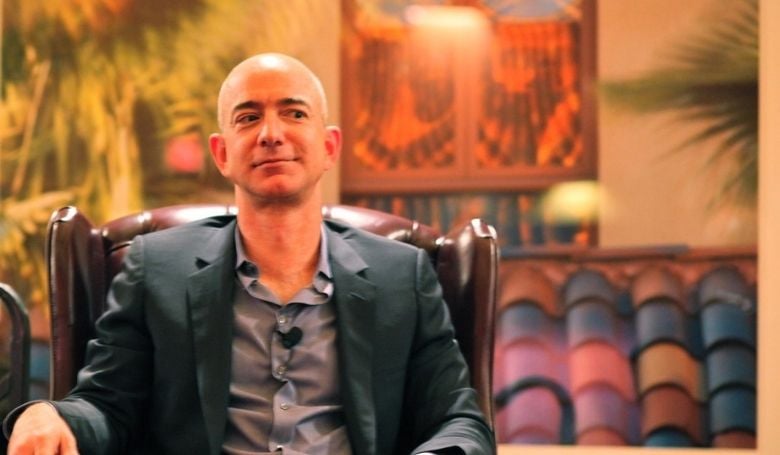 Jeff Bezos' rule was any team meeting could be fed by two pizzas. Photo by Steve Jurvetson/Licensed under CC BY 2.0
Bezos' rule was that two pizzas should be enough to feed everyone attending any Amazon team meeting.
To the frustration of many people keen to emulate the Amazon model, Bezos did not specify the exact size of the pizza he had in mind – a fact which has led to much speculation over Amazon team sizes over the years.

But later, in a speech, he did clarify that he thought the ideal number for a team was 10-12 people. And Bezos' thoughts carry weight.

Currently, the company is the fifth-largest in the world by market cap, behind Apple, Microsoft, Google, and Saudi Aramco (CompaniesMarketCap.com, 21st December 21), at just under US$1.7 trillion.

The company is estimated to have revenues of US$386 billion (2020) and more than 1.47 million employees around the world, of whom 847,000 are in the US (September 2021).

So Amazon has clearly come a long way from the days when it was an online bookseller, using old doors as desks in the back blocks of San Francisco.

This incredible ability to scale fast has also prompted observers to ask what is Amazon's organizational structure? And did it help or hinder the growth?
The secret ingredient to Amazon's org structure
In the book "Think Like Amazon: 50 1/2 Ideas to Become a Digital Leader", former Amazon exec John Rossman explained how the company's organizational culture was designed for efficiency and agility.

"Think about how most large companies operate. Big-company politics tend to rule the day. Meetings are layered in so much posturing and subtle deception, they are downright Shakespearean," he said.

"Seniority and titles matter more than having the right data or insight. Results suffer..."

By contrast, Amazon teams consist of multidisciplinary employees (generally a mix of tech and non-tech employees) who are tasked with finding the solution to a small part of a larger, complex problem. It is not only the composition of the teams themselves but the architecture that is Amazon's secret ingredient.
Interactive Org Chart - use tools to zoom, view job details, etc... ©Functionly
Example above is a representation of the Amazon leadership team. This information is for demonstration purposes only and has been sourced from public information. It may not accurately reflect roles, responsibilities, titles or personnel.
Inspired by API's, the Single-threaded owner
Current and former Amazon managers often talk about how teams interact like APIs (Application Programming Interface), the interface between various often unrelated pieces of software or devices that allows them to communicate.

This means they receive very specific inputs and outputs that can change over time but above all that they are dedicated to one single goal.

And the management structure that helps ensure the focus of these goals is based around the idea of the "Single-Threaded Owner (STO)" - a team leader responsible for managing one or more two-pizza teams and guaranteeing they are not distracted.

Amazon believes the STO approach ensures that team leaders will try to drive forward an initiative without allowing themselves to be slowed by other concerns.

Jeff Wilke, formerly CEO of Amazon's consumer business and the man once tipped to take over as leader of the whole company, expanded in a Forbes interview (2) on the role of single-threaded teams.
"Separable means almost as separable organizationally as APIs are for software. Single-threaded means they don't work on anything else."
Wilke said this meant "the single-threaded leader does not have to get up in the morning and worry about anything other than the thing they are charged to succeed at.
"If they got distracted by what's happening in Kindle or what's happening in another aspect of the retail business, or what's happening in AWS, they have less time to focus and less time to notice the things that aren't going well," Wilke said.

When Amazon sets out to design a new product, it starts off by writing a fake press release and FAQ page to help envision how the idea will look on launch day and then works back from there.
The power of Amazon's single-threaded accountability
Independent analyst and former venture capitalist Benedict Evans wrote in his blog (3) about how Amazon had perfected "radical decentralization".

"More than any of the other big tech platform companies, Amazon is a machine that makes the machine. People tend to talk about the famous virtuous circle diagram - more volume, lower costs, lower prices, more customers and so more volume," he said.

"However, I think the operating structure of Amazon - the machine that makes the machine - is just as important, and perhaps less often talked about."

Describing how at its very core Amazon consists of a physical logistics platform and the eCommerce platform, Evans says that under that sit hundreds of small, decentralized, atomized teams united by standardized internal systems.
And the big advantage of these teams is that they can be rapidly multiplied to take advantage of new market opportunities.

The API-type interaction means teams communicate only in a structured, systematic way.

"If an advertising team needed some data on shoe sales to decide how best to spend their resources, they could not email analytics and ask for it; they needed to go to the analytics dashboard themselves and get it," wrote UK newspaper The Guardian when it profiled this approach (4).

"If that dashboard didn't exist, it needed to be created. And that approach needed to cover everything."

This meant that Amazon was later able to market this solution to other companies – even to its competitors in the retail space. The idea became Amazon Web Services – or AWS, Amazon's cloud computing solution.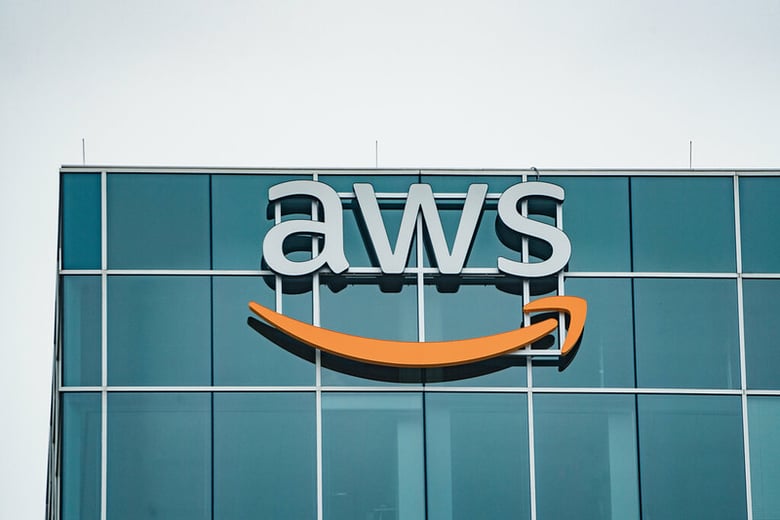 Amazon Web Services stemmed from solving an internal business need. Photo by Tony Webster/Licensed under CC BY 2.0
Testament to the importance of AWS in Amazon's structure is that when Bezos stepped down to take on a supervisory role as executive chair it was former AWS CEO Andy Jassy who replaced him.

And the company has used a similar scalable approach to create other major products such as Marketplace, which allowed third-party sellers to sell on the site, its artificial intelligence offering, and its own range of hardware such as Alexa or Echo.
How Amazon used their org design at scale
Amazon's organizational chart shows a hierarchical structure that has evolved from a remarkably flat early structure in a similar way to its fellow tech giant Google.

The hierarchical structure largely revolves around function-based groups. The major groupings are the Office of the CEO, Business Development, (AWS), Finance, International Consumer Business, Accounting, Consumer Business and Legal and Secretariat.

Geographically the company is divided into North American and International operations.

And what about companies wishing to emulate Amazon's organizational structure? Perhaps they should heed Bezos' own words – and bear in mind that the disadvantage of this approach is that such a structure requires significant up-front investment.

"It takes a lot of effort to organize, but if you can figure that out, the communication on those small teams will be very natural and easy," Bezos said.
How to emulate Amazon's org chart success
Whatever traditionalists may think of Amazon's organizational structure, it appears the company is doing something very right.

One thing we can learn from the best founders is that org structure is ever-changing, and companies are ever-evolving. Bezos understood the importance of continuous, rapid evolution. Design tools such as PowerPoint and whiteboards with sticky notes have had their day, but to keep up with constantly shifting teams, goals, and people, a certain intelligence is required.

Leverage what you have learned from real organizations like Amazon's with purpose-built Org Chart creation tools. Easily and quickly create intelligent org charts, and bring the entire team together to plan your organization's winning moves.

Get started free, and start creating your org today ->> https://www.functionly.com/pricing

Sources:
Think Like Amazon: 50 1/2 Ideas to Become a Digital Leader, John Rossman, 2019
The Secret to How Amazon Dominates, Beth Kowitt, Fortune, 19 July 2017
The Amazon machine, Benedict Evans, 12 Dec 2017
The two-pizza rule and the secret of Amazon's success, Alex Hern, The Guardian, 25 Apr 2018


All photos - Creative Commons