Chances are, if you're in a leadership or management role, you've had to create an org chart at some point.
And if you haven't, you've probably at least seen one. At their best, org charts are helpful tools that can make complex organizations easier to understand. But at their worst, they're static, lifeless documents that no one ever looks at!
And if you're totally new to the concept of an org chart, well it's a diagram that shows the structure of an organization and the relationships between its various parts.
Organizational charts can be incredibly useful tools for visualizing a company's structure and reporting lines. However, creating them can be a time-consuming and tedious process. Luckily, there are a few different software options that can make the process easier.
Not all of these software options are created equal. Some of them are more user-friendly than others, and some have more advanced features than others. The best way to figure out which software option is right for you is to experiment with a few and see which one works the best for you.
Let's explore the types of org chart software out there and help you decide which one is right for you.
Comparing different types of org chart software
Org chart software has come a long way since its early days. Today's versions are far more sophisticated and user-friendly than their predecessors. There are all sorts of bells and whistles you can add to your org chart to make it more interactive and informative.
But there are a number of different types of software commonly used to build org charts, and some are better suited to certain use cases than others. Let's drill in to three of the most popular org chart software types:
Presentation software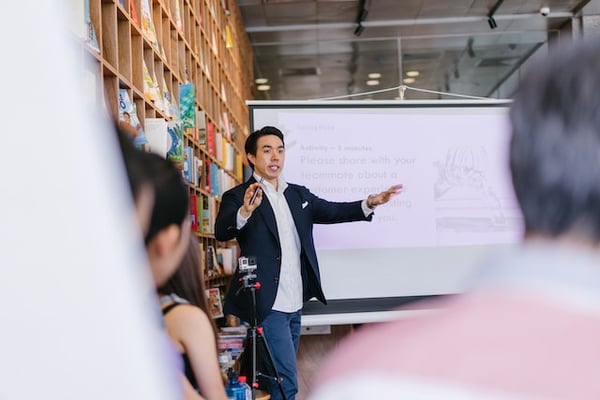 This type of software is generally used to create presentations. You know, like the ones where the CEO stands in front of a giant screen and points to different dot points as they talk about the company's strategy. Presentation software can also be used to create org charts. It's not the most ideal option for org charts since it's not specifically designed for that purpose. They can look pretty, but they're not very functional. There are a number of different presentation software programs available, and they all have different features that can help build an org chart. Some popular presentation software programs include tools like Microsoft PowerPoint and Keynote.
Diagramming software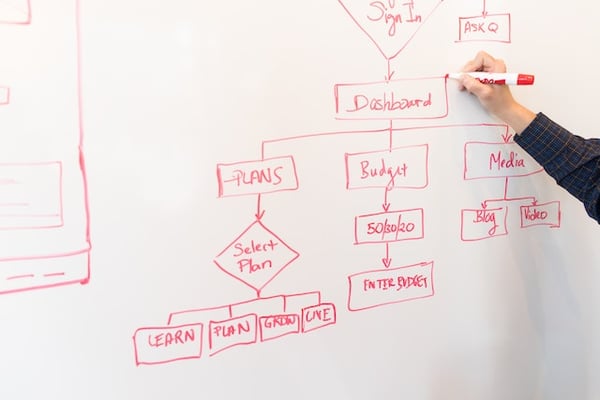 This type of software is used to create visual representations of data and workflows, often used by super technical folks like engineers, data scientists, and architects. Diagramming software often includes a wide range of features and can be used for a variety of purposes, making it a versatile tool. Diagramming tools are commonly used to design process flowcharts, mind maps and technical network diagrams. It can certainly be used to create org charts, too. However, because it's not specifically designed for org charting, you might find many of the diagramming tools to have so many features it becomes overwhelming. There are a number of different diagramming software programs available, and they all have different features. Some popular diagramming software programs include Microsoft Visio and Lucidchart.
Org chart software
The third type of org chart software is... org chart software! This software is specifically designed for creating and managing org charts, and usually has a number of different features that make it easier to do so, such as templates, automatic formatting, and the ability to link data from other software programs. Some popular org chart software programs include Organimi, ChartHop, and Functionly.
So, which type of org chart software is right for you?
Selecting the best org chart software
Above we listed different types of org chart software. Some of these are more traditional desktop-based solutions you install on your computer, while others are more innovative cloud-based SaaS solutions. Some we'd consider the "old" way of doing things, while others are newer built-for-purpose org chart software.
So, how do you know which type might be right for you?
There are multiple things to consider when selecting org chart software.
1. The size of your organization
If you have a small team, you may have grown out of building org charts in PowerPoint or Word. However, you might not need all the bells and whistles that come with more robust software options either. But if you have a large team or complex organizational structure, you'll want to make sure the software you choose can accommodate and grow with your needs.
2. The top features you need
Some software options come purpose-built for org charts and workforce planning. They can include detailed features like role and responsibility management, compensation budgeting and headcount planning and reporting. Other software options can be more basic charting tools that work well just to visualize your org chart. Consider what features are most important to you and make sure the software you choose has them.
Top features of the best org chart software include:
The ability to create org charts quickly and easily, including importing existing data and automatically building an org chart
A variety of different templates and formatting options
The ability to link data from other software programs
The ability to share and collaborate on org charts with others
Detailed reporting and analytics features
3. Your budget
There is a wide range of prices for org chart software, so you'll want to make sure you choose something that fits within your budget. The costs can vary from a few dollars per month to a few thousand dollars per year, so be sure to do your research and select something that's affordable for you.
4. Your users
Finally, when you're choosing org chart software, it's important to think about who in your company will use it. Will it just be the HR team? Or do you want everyone in your company to have access to it? Will it be your senior leadership team or line managers using the tool? You'll need to understand who will be using the software and what their needs are in order to choose the best org chart software for your company.
Questions to ask when you're considering org chart software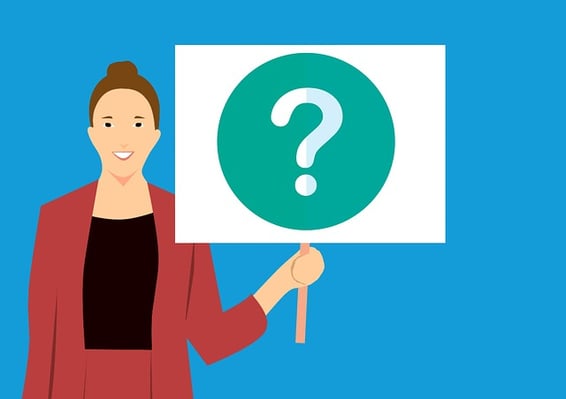 Now that you know a few important things to consider when choosing org chart software, here are a few questions you can ask yourself or your team to help narrow down the options further:
How often will you need to update your charts? Updating your charts regularly is important to ensure accuracy and timeliness of your data. Depending on the frequency of data changes, you may need to update your charts daily, weekly, or monthly.

Is ease of use important to you? When choosing a charting tool, ease of use is an important consideration. You want a tool that is intuitive and easy to use so that updating your charts is a quick and simple process.

How much control do you need over the look and feel of the chart? For example, would you like to be able to customize the colors, fonts, and other visual elements? Add your own logo? Or would you prefer a chart that is simple and easy to read?

Are there features like automatic layout or data import/export that are important to you?

Does the software integrate with your existing HR tools? If it doesn't, are there any workarounds that would make it possible to use the two tools together?

How much does the software cost, and is there a free trial or demo?

What devices will you be using to access the org chart software? E.g. PCs? Macs? Mobile devices like an iPhone? Do you want to be able to access the org chart via a web browser?
Once you've considered these questions, you should start to narrow down which org chart software you should use. The bottom line is that there is no one-size-fits-all answer when it comes to choosing org chart software.
For a specific list of org chart software to check out against your requirements read this article.
What about Interactive org chart software?
In recent years, a new type of org chart software has become popular: interactive org charts. These are web-based solutions that allow users to not only view the org chart, but also interact with it. For example, they might be able to search for people by name or job title, see contact information or photos, and even click through to an employee's profile page or a detailed job description.
Interactive org charts can be a great way to increase engagement and communication within an organization, especially if you have a lot of remote or distributed employees. They also make it easy for new employees to get up to speed on the organizational structure and learn who they need to contact for what. Interactive org charts also allow for leaders to collaborate on org chart changes in real-time and see the results of those changes immediately.
If you want to know more about creating an interactive org chart, read this article.
Should I use ChartHop or Organimi org chart software instead of doing things the old way?
In the past, org charts were often built with tools like PowerPoint or even Word. This can be time-consuming and it's hard to keep these updated as changes happen in the organization. And, let's face it, org charts are constantly changing!
Some of the newer org chart software options, including Charthop, Organimi and Functionly, allow you to import data directly from HR systems or other sources, which can save a lot of time. Unlike the "old" solutions, new org chart software can integrate with popular HR tools like BambooHR, Namely, Justworks or Workday, making it easy to keep your org chart up-to-date.
And if you choose an interactive org chart, you can give employees or managers the ability to update their own information, which can further reduce the amount of time you spend maintaining the chart.
So, the best org chart software to choose is the one that suits your requirements best. Consider what you are trying to achieve with your org chart, how important it is to have an accurate, accessible chart, and what you need from the software, and then compare the features and prices of different options to find the best fit for you. Don't forget to try out a few org chart software options before making your final decision!
Want to try an org chart right now?
Ready to get started on your quest to find the best org chart software for you? You can get started right now - for free - using Functionly's interactive web-based service. It's easy to use, updatable in real-time and can connect to your HR system (saving you time in uploading all your employees).
Get started today with Functionly.