It's no secret that Amazon Web Services (AWS) has taken the world by storm, with its wide range of cloud-based services and solutions propelling it to the top of the tech industry. But have you ever wondered about the masterminds behind AWS? In this article, we'll delve into the AWS leadership and org chart, providing you with a fascinating look into the people and structure that have helped shape this cloud computing giant.
So, buckle up and get ready to explore the inner workings of AWS, as we break down its leadership, organizational structure, and even address some frequently asked questions!
The AWS Leadership Team: Steering the Cloud Ship
First things first, let's get to know the key players at the helm of the AWS ship. Here's a rundown of the top brass in AWS:
Andy Jassy - CEO of Amazon: Andy Jassy took over as CEO of Amazon in July 2021, after previously serving as CEO of AWS. Under his leadership, AWS has grown into the cloud computing powerhouse it is today.

Adam Selipsky - CEO of AWS: Adam Selipsky succeeded Jassy as the CEO of AWS in 2021. Selipsky is no stranger to AWS, having previously served as the Vice President of AWS Sales, Marketing, and Support.

Eugene Kawamoto - Director of Product Management - Amazon Redshift: Eugene Kawamoto is the Director of Product Management for Amazon Redshift, the data warehouse service that is part of the AWS analytics portfolio. He leads the product vision, strategy, and roadmap for Redshift, and works closely with customers and partners to deliver innovative solutions.

Jeff Barr - Vice President and Chief Evangelist: Jeff Barr joined AWS in 2002 as one of its first employees and is responsible for shaping and delivering the AWS message to developers, customers, and partners around the world. He writes extensively on the AWS blog and social media channels, and speaks at AWS and industry events.

Jens Gruenkemeier - Vice President of Procurement: Jens Gruenkemeier leads the global management of supply chain and procurement for Amazon's corporate infrastructure and web services (cloud computing) division. He joined AWS in 2012 and has over 20 years of experience in procurement roles at Dell and Siemens AG.

Ian Wilson - Vice President, Human Resources: Ian Wilson leads the global HR team that supports the growth and development of over 100,000 AWS employees. He joined AWS in 2014 and has over 25 years of experience in HR leadership roles across various industries.

Richard Puccio - CFO: Richard Puccio oversees the financial planning, analysis, reporting, and operations of AWS. He joined AWS in 2017 as Vice President of Finance and has over 20 years of experience in finance and accounting roles at Amazon and other companies.
Amazon Inc interactive organization chart, by Functionly.
Navigating the AWS Organizational Structure: Departments and Teams
Now that we've met the top dogs, let's delve into the AWS org structure, exploring the various departments and teams that make up this cloud behemoth. AWS is divided into several key departments:
Infrastructure Services
This department focuses on providing the core infrastructure that powers AWS, including computing, storage, and database services. Key services in this department include Amazon EC2, Amazon S3, and Amazon RDS.
Platform Services
The platform services team develops higher-level services that enable developers to build and deploy applications on AWS. These services include AWS Lambda, Amazon API Gateway, and AWS Elastic Beanstalk.
Enterprise Services
AWS's enterprise services department caters to the needs of large organizations, providing services such as AWS Direct Connect, AWS Managed Services, and AWS Support.
Public Sector and Industries
As the name suggests, this department is dedicated to serving the unique needs of governments, nonprofits, and regulated industries, with services like AWS GovCloud and AWS Marketplace for the public sector.
AWS Partner Network
The AWS Partner Network (APN) is the global partner program that helps organizations build, market, and sell their AWS-based solutions. This department fosters collaboration and supports partners in achieving success on the AWS platform.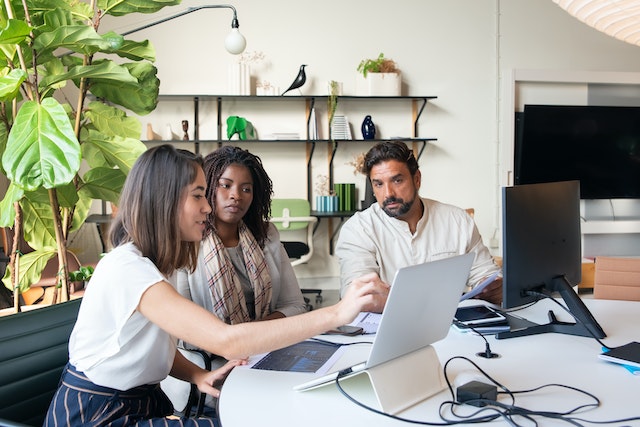 Photo by Kampus Production | Pexels
FAQs: Demystifying the AWS Leadership and Org Chart
Now that we've covered the basic structure of AWS, let's address some frequently asked questions:
Q: What is the difference between Amazon and AWS?
A: Amazon and AWS are both part of the same company, Amazon.com, but they offer different products and services. Amazon is the world's largest online retailer that sells a variety of goods and services, such as books, electronics, clothing, groceries, music, video streaming, and more. Amazon also offers its own devices, such as Kindle, Fire TV, Echo, and Alexa.
AWS stands for Amazon Web Services, which is the cloud computing platform of Amazon.com. AWS provides a range of services and solutions for customers to build and run applications on the cloud, such as computing, storage, database, networking, analytics, machine learning, security, and more. Amazon and AWS are both very successful businesses that generate billions of dollars in revenue each year. However, they operate independently and have different strategies and goals. Amazon focuses on customer satisfaction and innovation in e-commerce and digital entertainment. AWS focuses on providing reliable, scalable, and cost-effective cloud solutions for customers of all sizes and industries.
Q: What are the "levels" at AWS in relation to seniority of employee roles?
A: AWS, like its parent company Amazon, uses a level-based system to categorize its employees and determine their compensation and career progression. The levels range from L1 to L12, with L1 being the lowest and L12 being the highest.
L1-L3: These are the entry-level positions for hourly workers, such as customer service associates, warehouse workers, and delivery drivers.
L4-L6: These are the mid-level positions for individual contributors, such as software engineers, data scientists, solutions architects, and product managers. The average salary for these roles is reportedly between around $100,000 and $300,000 per year, depending on the role and location. These levels also require AWS certifications for some roles.
L7-L8: These are the senior-level positions for managers and leaders, such as software engineering managers, senior product managers, senior solutions architects, and principal engineers. The average salary for these roles has been reported as between around $285,000 and $968,000 per year, depending on the role and location. These levels also require AWS certifications for some roles.
L9-L12: These are the executive-level positions for directors, vice presidents, senior vice presidents, and CEOs. These levels also require extensive experience and leadership skills.
The levels at AWS reflect the seniority and responsibility of each employee role. They also help determine the compensation and career growth opportunities for each employee.
Q: How does AWS maintain such rapid growth and innovation?
A: AWS's success can be attributed to its strong leadership, a culture that embraces innovation, and its customer-centric approach. The AWS leadership and org chart is designed to promote agility, with teams being given the autonomy to experiment and iterate quickly. This fosters a fast-paced environment where new ideas and technologies can thrive.
Q: How does AWS stay ahead of the competition?
A: AWS's leadership and organizational structure enable it to remain nimble and adaptive in a rapidly evolving industry. Its commitment to innovation, customer obsession, and strategic investments in cutting-edge technologies help it maintain a competitive edge.
Unlocking the Secrets of the AWS Leadership and Org Chart
By now, you should have a better understanding of the AWS leadership and org chart, including the key players, departments, and teams that make up this cloud computing giant. AWS's success is a testament to the power of strong leadership, a culture of innovation, and a customer-centric approach.
As the cloud computing landscape continues to evolve, AWS's leadership and organizational structure will undoubtedly play a critical role in its ability to stay ahead of the curve and maintain its position as a market leader. With a deeper appreciation of the inner workings of AWS, you're now better equipped to navigate the ever-expanding world of cloud services and solutions that AWS has to offer.
Want to unlock your own leadership and org chart secrets? Start with the right tools, like Functionly.