1. New org chart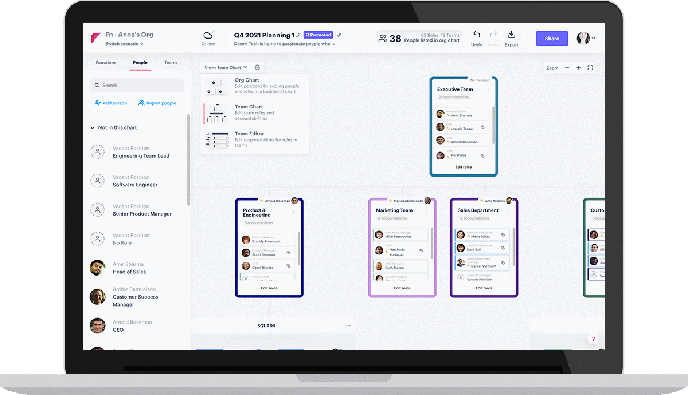 This update was so big, we created a stand alone release article here.
If you didn't see it before, we're excited about the Org Chart because it expands your workspace in Functionly. Now you have one chart to visualise people, positions, managers, and vacancies, and another chart to plan where work gets done.
All your data is synched between both charts, and switching views is easy thanks to our new menu (see below).
2. New menu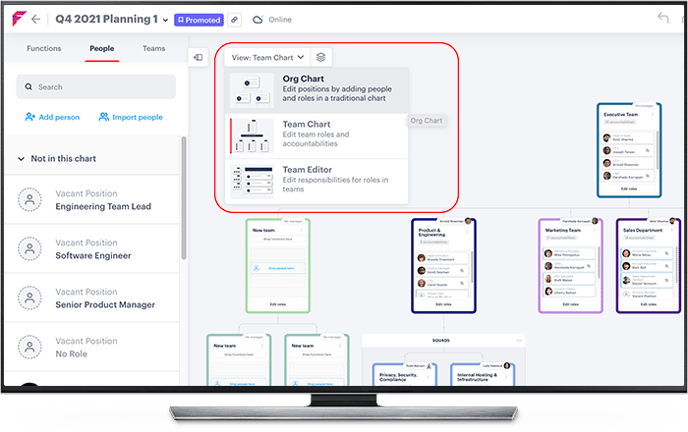 Along with the Org Chart release, we simplified the top navigation and changed the way you navigate between charts.
To find your org chart, click your view menu with the drop down arrow. The options include: 'Org Chart, Team Chart, and Team Editor'.



If you want to filter your information for the Team chart, there's a stacking icon beside your view menu. Click this button and select the information you want to see: Accountabilities, People, or Resourcing.
It's the same information that was previously available to your team chart, just in a different place.
We hope to expand filter options for to the Org Chart, so keep your eyes peeled for our next update! 👀
3. Full screen mode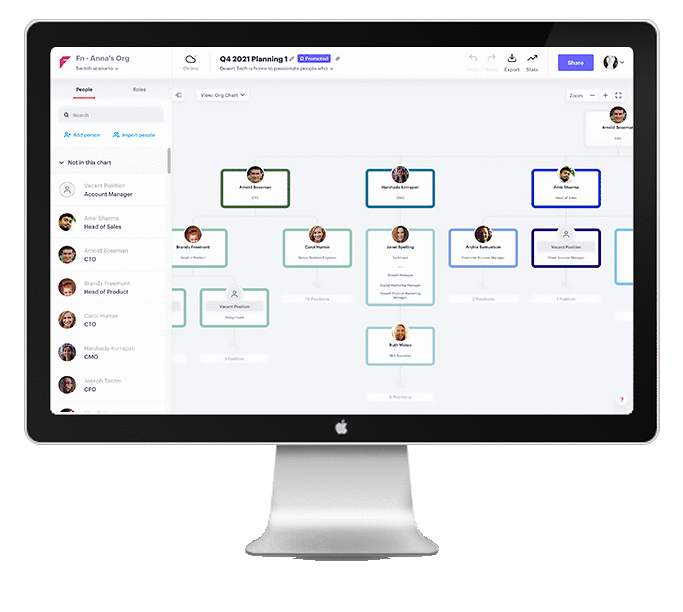 Not only have we simplified your menu and navigation, we've also added a tab to show and hide your left-hand tools menu. This reduces on-screen clutter and makes it easier to focus on what's present on screen when you're not in design mode.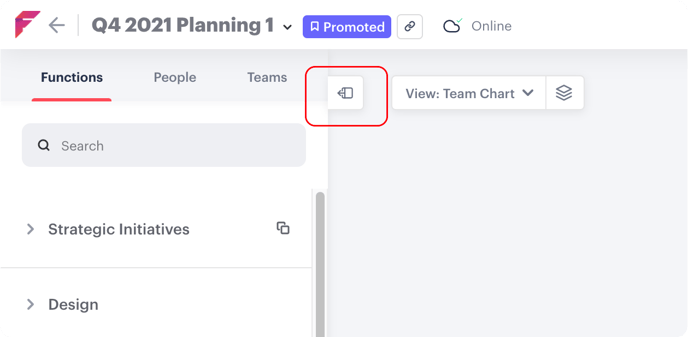 To enter full-screen mode, click the small tab that's highlighted above. You can slide to hide your menu this way, and slide it open when you need to access it.
4. Stats V1
The new Scenario Summary is the V1 of reporting. Get live totals of your people, positions, vacancies, teams, and alerts to any in chart anomalies you may want to fix.
Access stats by clicking the button on the top right of your screen, beside 'Export'. ✨
Each section is able to be minimized, enabling you to filter and focus on what matters to you.
5. New drag and drop alert

We've been working on releasing many more behind-the scenes updates that speed up Functionly, and make your experience much easier.
One notable improvement is how you can drag and drop single items in your org chart. This means if you need to drag a team or position out of the structure you can do easily, and freely.
If you're wanting to bring everything below that item, you can do so by using the internode menu just above that position or team. It says 'Move All', and it will allow you to drag everything below that item.