1. Manager view
Manager view is a new way to, well, view your chart. When you're concentrating on, or sharing one specific area of your org, it's easy to get distracted with everything else you see. Manager view enables you to hide everyone 'above' or 'below' any position or person in your chart.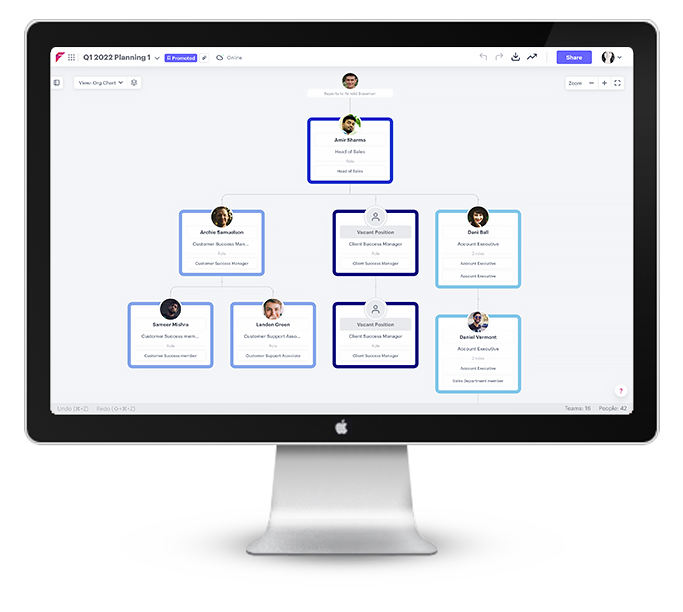 To get to Manager view, pick someone in your chart and find the internode menu by hovering over the dot above them. Click 'More', then 'Hide positions above', and Voilà! You're now looking at a concentrated area of your chart that shows one person, and everyone else below them.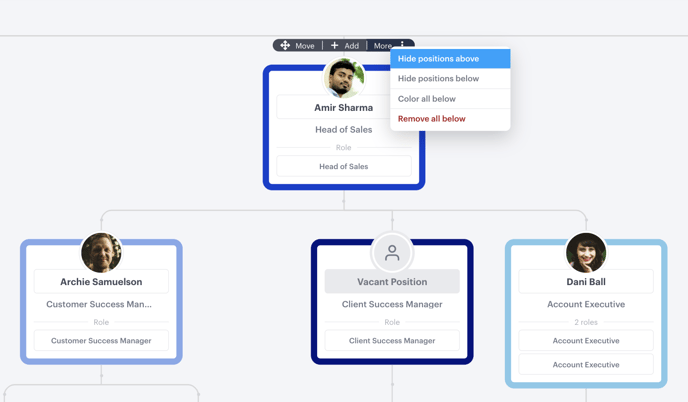 We love this new simplified view, and we'd also love to hear any
feedback
on how you're finding it!
2. New HRIS integrations
Hello, new HRIS integrations! In November we welcomed Workday, Insperity, and Paycom to the available import methods to help you bring in your people, and keep your chart up to date. These integrations can be found by clicking 'import people' in your org chart.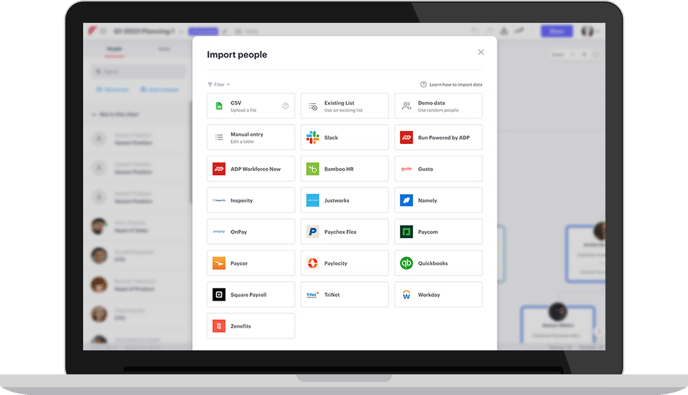 Sadly, we as we welcomed three new integrations, we had to say goodbye to integrating with Rippling. Rippling has recently made a shift to their API experience that closes their ecosystem to non-App Store third-party developers. If you're a Rippling customer, the best thing to do would be to pass any feedback directly to them. You will still be able to import your people via a CSV sheet, which can be downloaded directly from your Rippling system.
To view a complete list of the integrations we currently support,
click here
.
3. Persistent lenses and filters
Just a small improvement to make your day that little bit better. This new function enables you to come back to your custom filtered view for the duration of your session, so when you're working in the Team chart, editing your function library, or designing new teams - you will always come back to the filtered view you've set until you close your browser.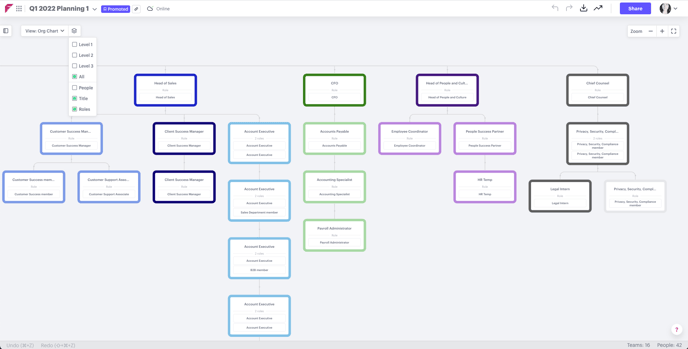 Haven't used chart filters yet? Click the layered icon beside 'Org Chart' to explore your newly available filters.

4. Redesigned import modal
The next time you click 'import people', you'll get a different experience. The new modal (we think) is easier to understand, makes it faster to get to the option you need, and is a lot more simple.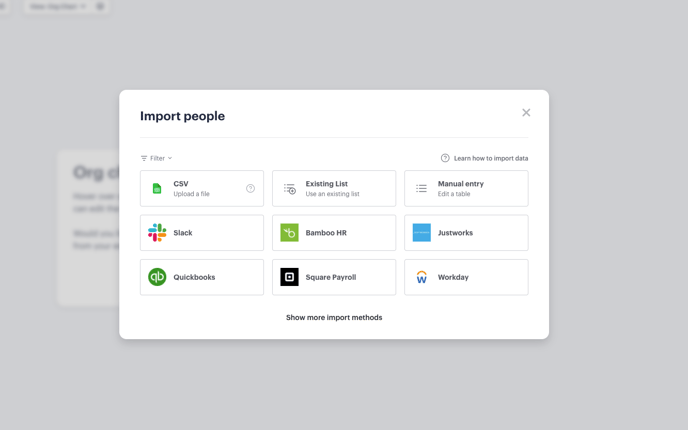 We're all about simplifying here, and we are constantly making small changes like this to keep improving your experience. As always, please
continue sending us feedback
about you love, what you don't love, and what you'd be excited to see us introduce in the future!