With just a few pieces of information you can import your entire org structure from a spreadsheet.
You will need to create an export list of employees/contractors/resources from your HRIS system and save in CSV format. Most HRIS systems will have a CSV export option.
For Functionly, we will need a list of the below fields. The * marks necessary fields, however the more information you include from our list, the more rich and useful your experience with Functionly will be.
Your CSV should have as much of the following fields as possible for each person in your organization:
Full name (first name, last name)*
Job Title
Email Address
FTE (Full-time equivalent i.e. 0.5 being half time) - you will not be able to use this data immediately,
Location (if you have multiple offices)
Team or Department name
Manager full name (first name, last name)*
*Required fields

If you need, use our template CSV sheet here.
Spreadsheet Structure
In order to establish reporting lines, the person intended for the top of your org chart should have no manager and this person should also be the first name on the spreadsheet e.g. your Chief Executive Officer.

What these headers are named doesn't matter as our import engine will allow you to map them to the correct data fields.
Minimum Requirements:
The below data are the minimum you will need to import an entire org structure using a spreadsheet.
Full name or first name and last name
Manager full name or manager first name and manager last name

Recommended Data
The below data are recommended but not required for import.
Job title
Team name
Email address
Avatar URL (must be hosted on public server)
Why are they helpful?
Job title: If your functional library has been set to SaaS or MSP, our system will automatically map job titles it can identify from your spreadsheet such as 'Chief Executive Officer', to the responsibilities you might expect of a CEO e.g. 'Board Governance' or 'Corporate Planning'. It will then allocate those responsibilities to your CEO. Please note that this feature is only available on our paid plans.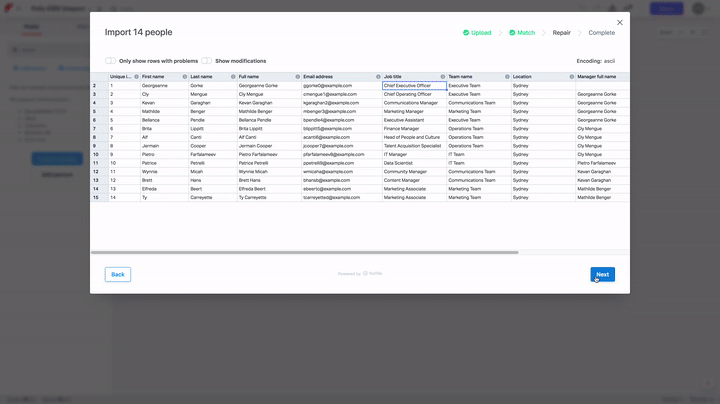 Team name: This is will make it easier for you, and others, to identify the team rather than having our system assign it.
Email address: If you re-import with new people added to your CSV, then the system will de-duplicate existing people and create new ones based on their email addresses. Email addresses are also stored in the product and can be easily accessed by collaborators by clicking on any person.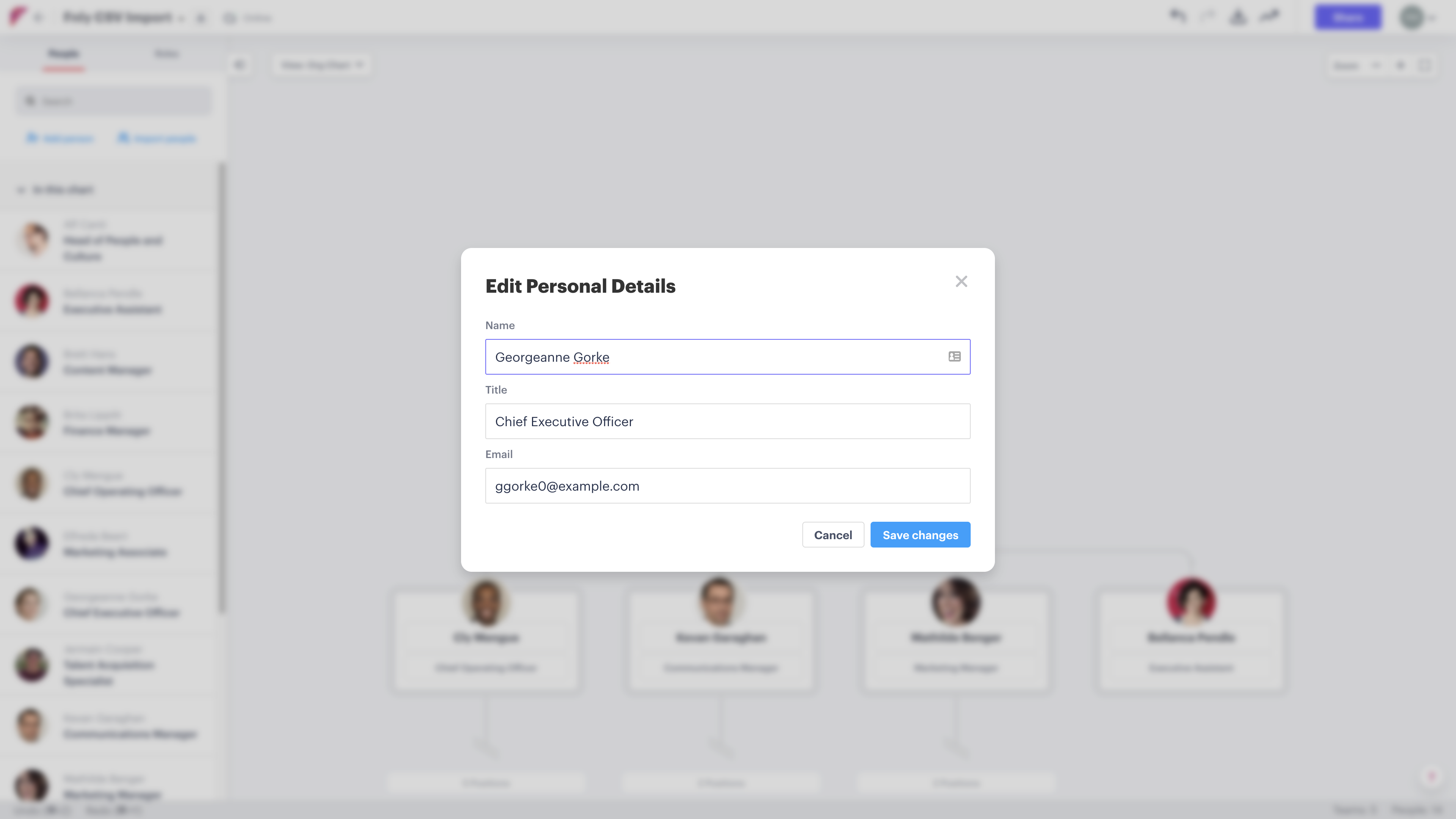 Avatar URL: In larger orgs it's helpful for more quickly identifying people and, let's be honest, it makes it more human.
Additional Data
As new features are added to the product they may allow you to leverage these data in the future. This is particularly true of FTE as the workforce planning elements of the product are expanded.
Common Troubleshooting
Spreadsheet must be saved in CSV format
Person intended for the top of the org chart should be at the top of the spreadsheet
Person intended for the top of the chart should have no manager set e.g. CEO
Managers must be contained in the CSV if importing for the first time
Avatars should be hosted on a public server