If you want to represent people having more than one role, as in a matrix structure, you'll need to understand how positions relate to roles and people.

---
Position Vs. Role
At its most basic level, a role is just a collection of responsibilities and activities that a person performs within the organization. If a role is a collection responsibilities then a position is the glue that binds a role and a person together. A role can be duplicated and performed by multiple people across the organization, in multiple positions but each position can only have one role and one person allocated at a given time.

How does it work in practise?
There are many different structures you can choose to follow when you build your org but people will either have a single role or multiple roles depending on your choice.
Single role structure
In a more traditional structure where people have only one role, you can simply drag and drop them from the left-hand side into a team. This will automatically apply the person's first position for them. Easy!
Multiple roles
Work Chart
If you're creating an org structure that requires people to have more than one role such as a matrix structure then you'll need to create a position for each role they have in their different teams, tribes, pods or squads. There a couple of different ways to create a new position. If you know who the person is you would like to add then you can click the add person button on any team panel and start typing their name. This will give you the option to add a new role for the person.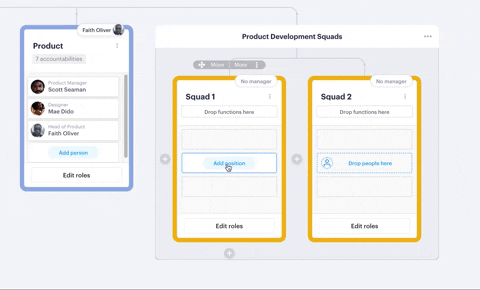 If you would like to build the role first and add someone to it after, you can click 'Edit roles' on any team then select 'Add new role to team'. You can drag and drop a role on to the new position.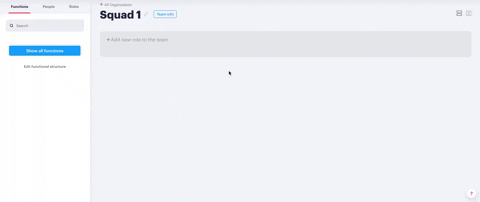 Org Chart
You can apply multiple roles on the Org Chart view by simply dragging and dropping a person onto the chart and clicking 'Add role' at the bottom of the chart.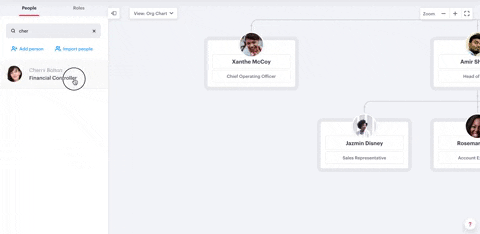 How to build a matrix org structure...
This video provides a quick guide to building cross-functional teams in Functionly.