Active collaboration and early input during org design will ensure your that you're setting yourself up for success. This article will will show you the different ways to bring others into the process.
Collaborating
To collaborate in the product, you can 'Share' your scenario. This will allow you to work on a scenario at the same time as your teammates. As their changes are saved, they will update in realtime on your browser. They can also copy scenarios you have shared with them and design their own versions. This also adds additional org designers to your subscription. If you're uncertain what this means for your billing, contact our support team and they'll be happy to clarify before you proceed.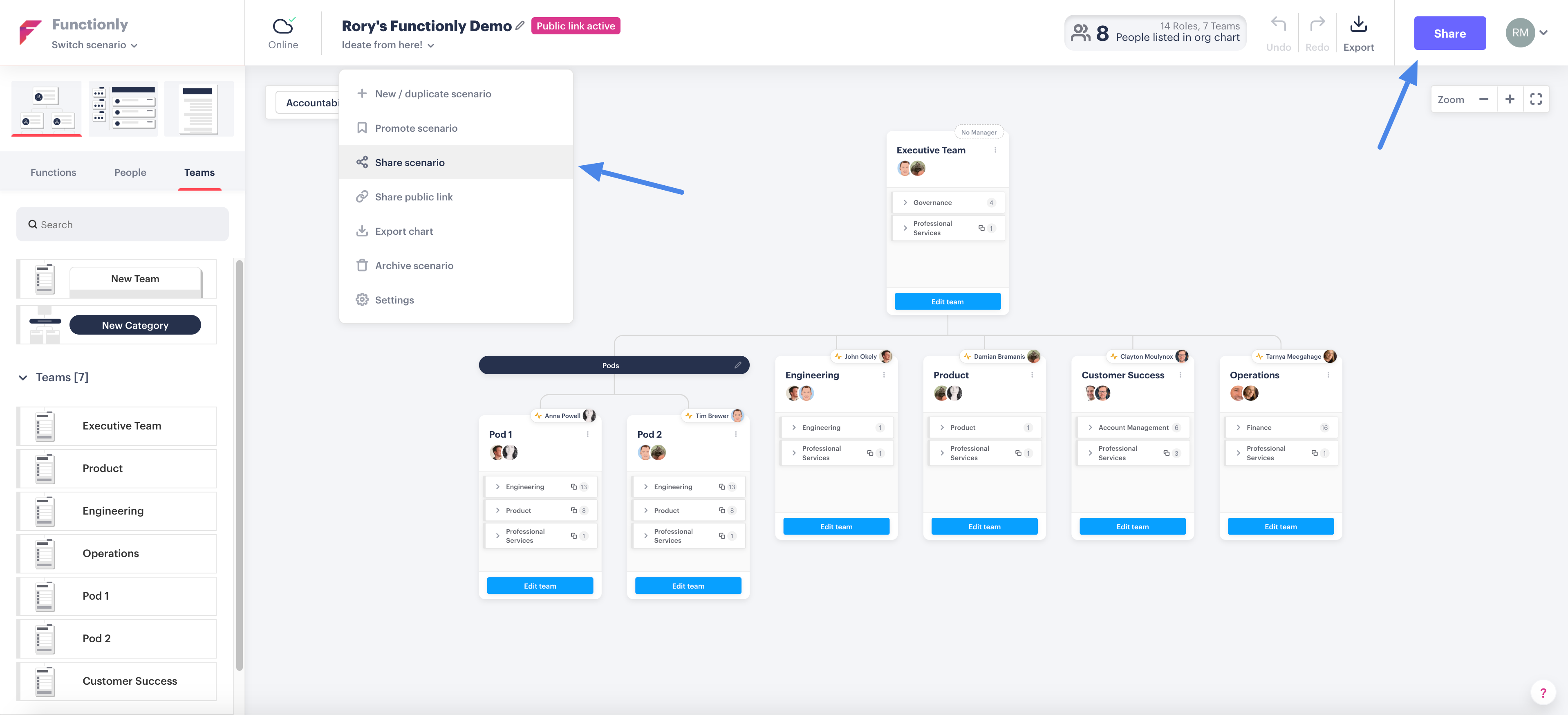 Sharing with public a link
To give a view of your work to teammates or across your whole organization, you can create a public link. Links are free and people who view them don't need to create a Functionly account as they're read-only. Anyone with this link can then view your scenario without adding additional designers to your subscription. Here's our in depth guide to public links.
Note:
Please be careful who you share this link with, we cannot control any unwanted access as anyone with this link will be able to see your organizational information.
We do recommend changing your active links (deactivating, and creating new links) regularly to protect your privacy.
Exporting
You can also share by exporting. Either click the 'Export' button near the top right of your scenario or click the dropdown below your scenario name, then select 'Export chart' and a PDF will download to your computer. The PDF will have a page replicating your people view and one replicating your accountabilities view.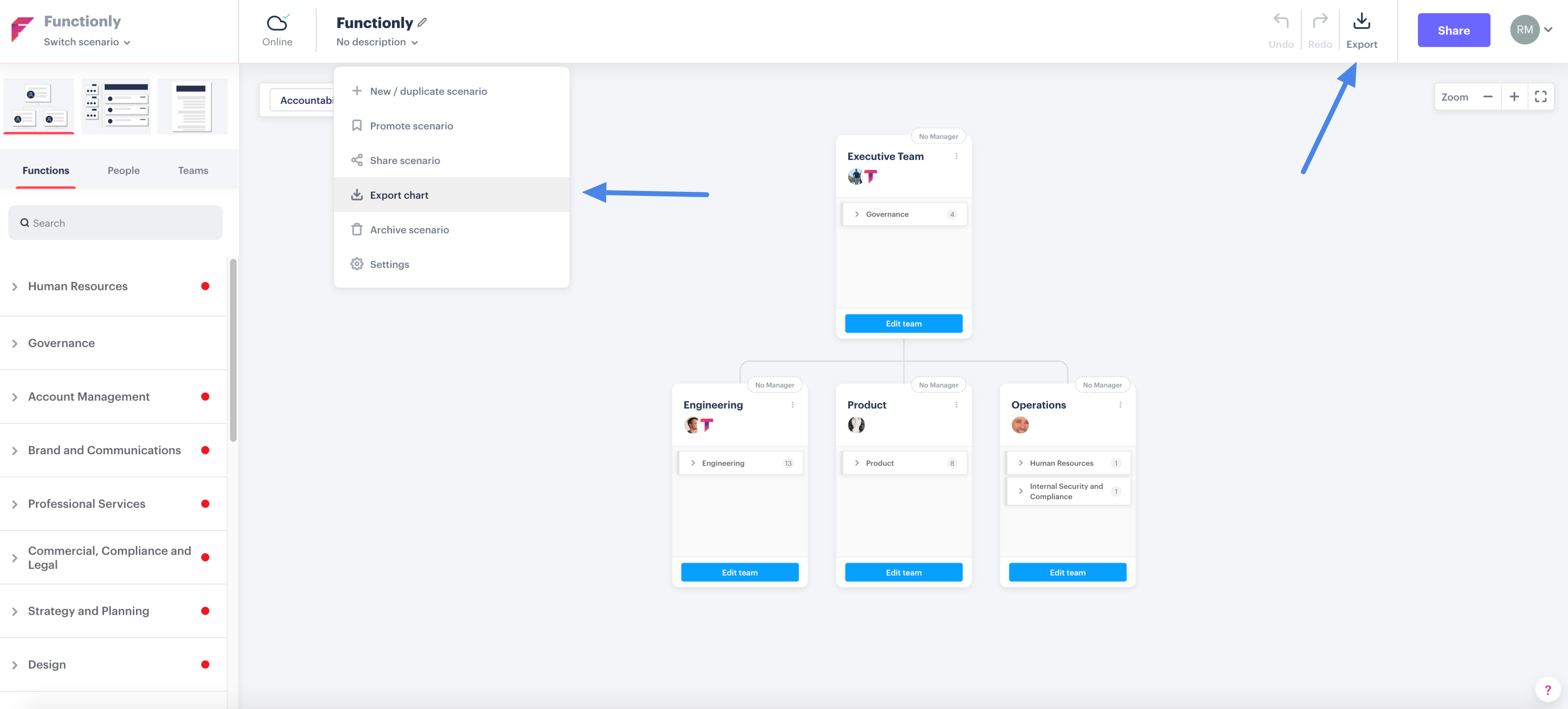 Promote a Scenario
The Promoted scenario represents the 'current state' of your organizational structure as it exists today. When you promote a scenario, all users in your organization will be able to view and copy it for use in their own scenario planning.
You can promote a scenario on your organization page by clicking the three dots in the top right hand corner of the scenario and choosing 'Promote scenario' from the dropdown.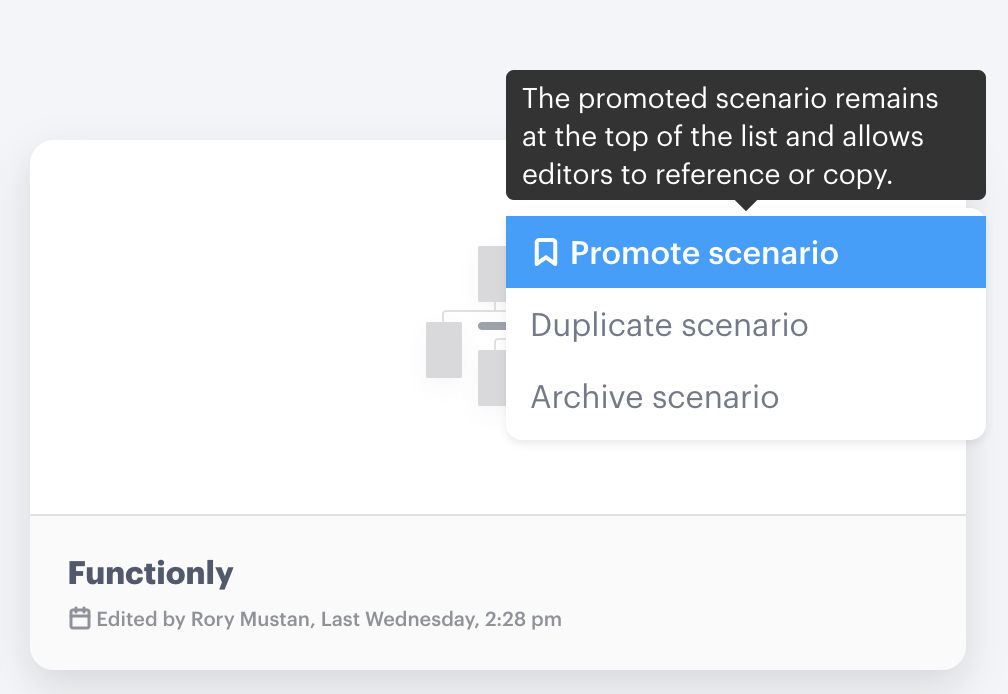 Alternatively you can do so when your scenario is loaded by clicking the dropdown under your scenario name and selecting 'Promote scenario' from the dropdown.