This month we're excited to announce our greatest offering since we launched Functionly Labs just over a year ago... the Forever Free plan.
On the surface, Functionly may seem like just another org chart. But our mission runs a lot deeper. Having been an advisor to many growing companies, we've witnessed the devastating consequences of reactive org design: dysfunction, conflict, burnout, turnover, and squandered opportunities.

Large corporations have often responded by outsourcing their org structure headaches to consulting firms such as McKinsey & Company, Boston Consulting Group (BCG) or Deloitte, signing off on multi-million dollar projects that take months. We believe outsourcing these critical decisions betrays the brokenness of these organisations, and highlights how alienated managers are from the tools they need to put the right people, with the right skills, in the right place, at the right time.

This motivates us to build Functionly, a continuous org design tool for modern leaders to create the best places to work and plan their winning moves. We enable companies to create organisational charts based on what people do, making it easy for all executives to strategically plan and optimise their organisations.

Alongside our Seed announcement, we're stoked to be launching a FREE version of Functionly to help organisations get started.

We believe in democratising organizational design, and we believe that there's a better way to find consensus on org design than endless whiteboard sessions, hundreds of unnecessary post-it-notes used, or hours wasted trying to get your org chart looking right on Powerpoint... that's why we launched our Forever Free plan. A plan where anyone can create unlimited, beautiful org charts, free of charge.

So what does this mean for you, our existing users? The great news is that you don't need to take any action. You may receive communication from our Customer Success team about your plan and charges. You'll be able to see our new standard plans and pricing below, and the best part? You now have an option to downgrade to our free plan, and still retain your information.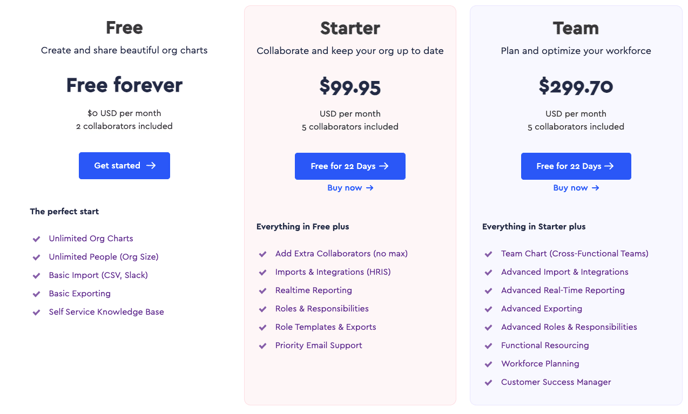 The free plan is a limited version of our Starter plan. It includes the ability to create endless, but basic, org charts. You still have all the functionality you love, but with a few less features. However if you're looking for an org chart with colour, collaboration (with one other user), people, and job titles - then this plan is your new best friend.
We're not saying you should downgrade to free - our Starter and Team plans are packed with valuable features like Roles and Responsibilities, Templates, Team Charts, and more advanced reporting features... however if you do downgrade, you'll have a great experience getting to test out our new offering.



Happy designing!
The team at Functionly.