So you're setting up your first organization in Functionly, and you want to know how to import your people? You've come to the right place!

4 Ways to Upload Your People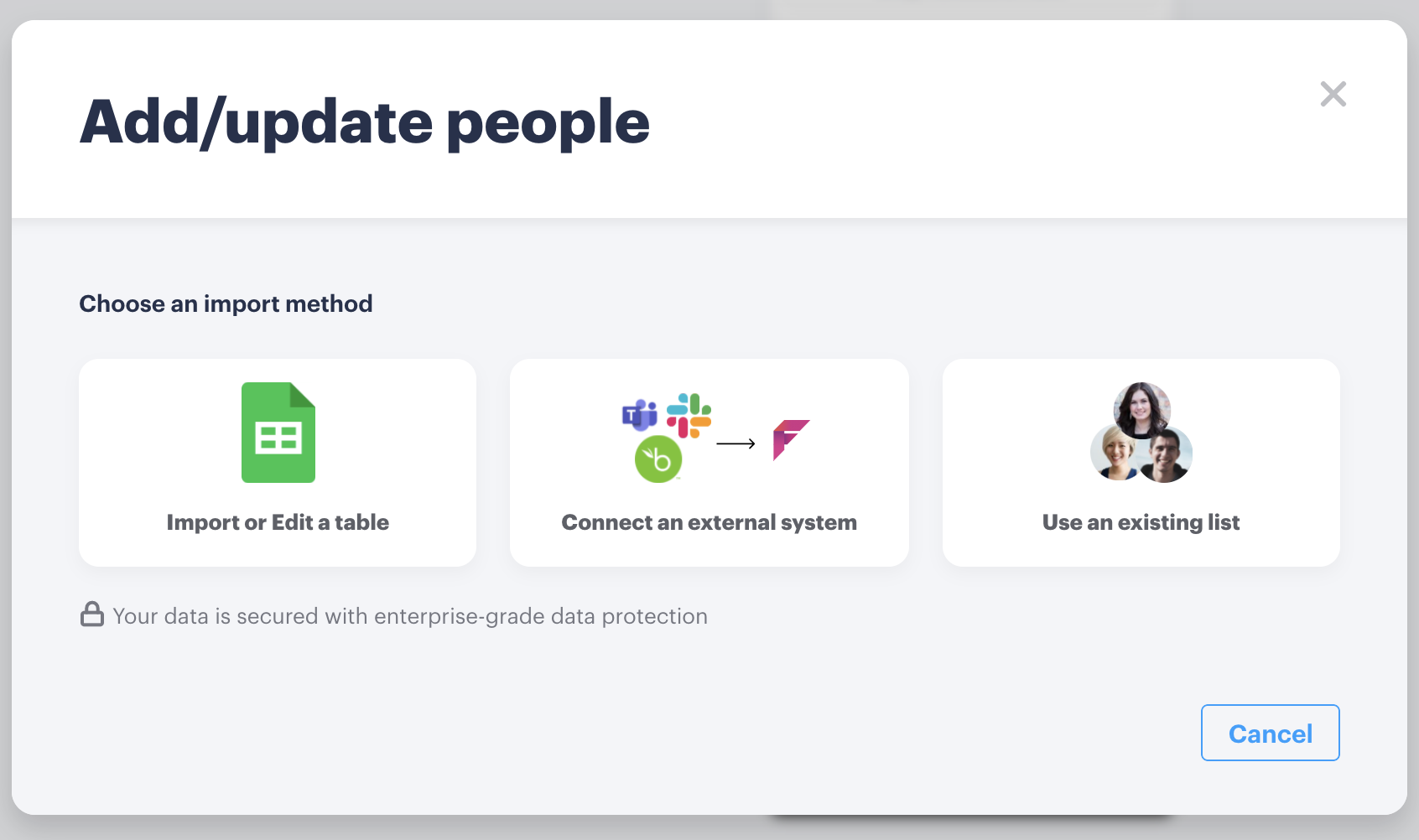 Integrations such as Slack, Upload a File, Edit into a spreadsheet, or manually add your team (not recommended for larger organizations).
Import via Integration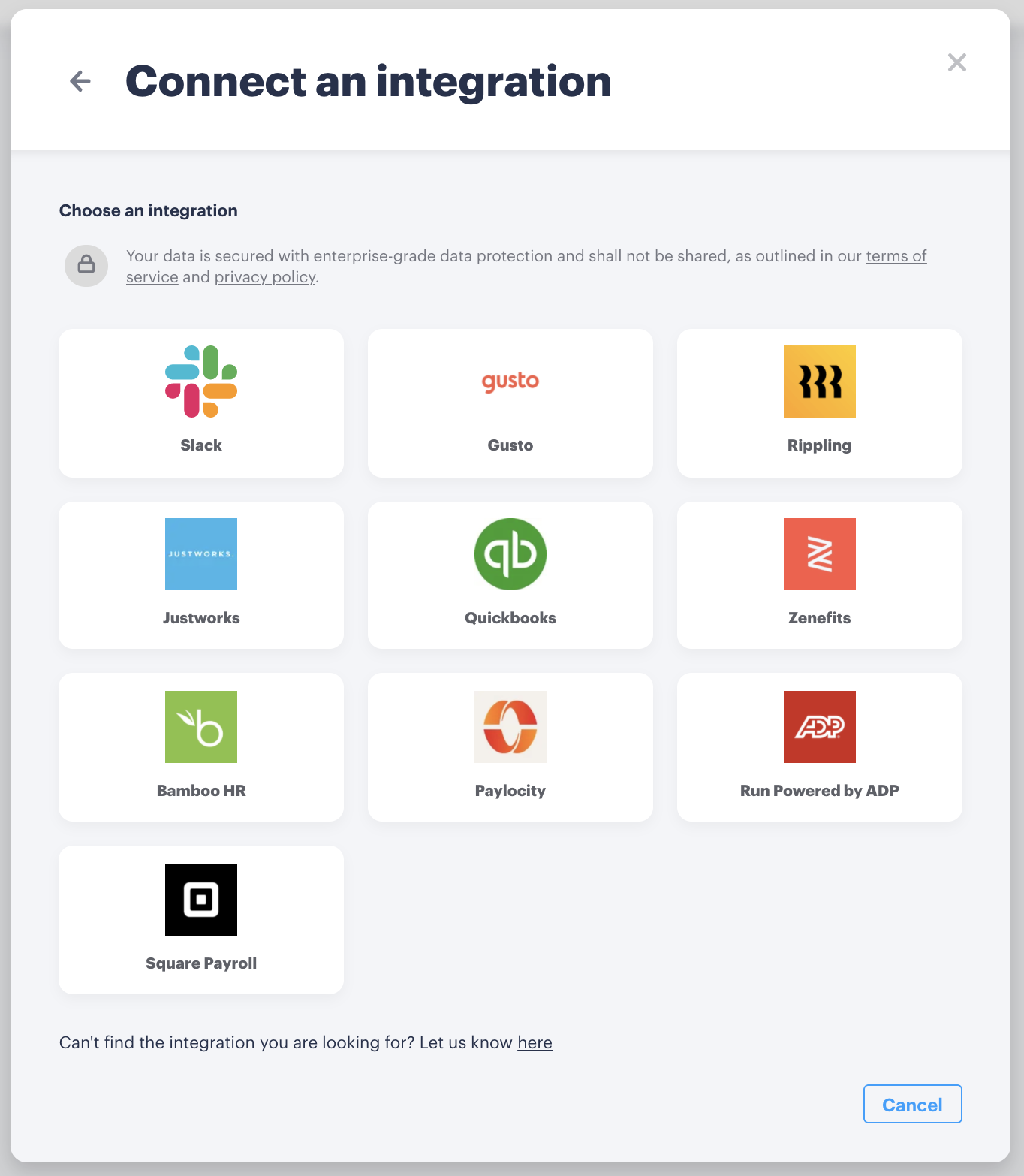 We now offer the option to import people via a number of human resource management systems. To do so, simply create or load a scenario, select the people tab on the left and click add people. If you are signed into your system it will import people along with their picture and job title (if available), allowing you to start adding them to teams.
The first time you import people, you will be asked to authenticate yourself by the selected integration. The next time you re-import you will be able to do so without the need to authenticate.
When you do re-import, if there are conflicts, then the latest version of the data will be imported. For example if you re-import from Slack after updating your avatar, then the latest version will appear in Functionly.
As you'll see on the modal when choosing an integration, your data is secured with enterprise-grade data protection and shall not be shared, as outlined in our terms of service and privacy policy.
You can add and update people via multiple import methods. People will be deduplicated based on email address. Duplicate data, if any, will be overridden by the most recent import method.
If you need to revoke access to a service, contact support@functionly.com and one of our team will unlink the service for you.
Don't see your preferred integration? Let us know which ones you'd like to see.
Upload via Slack
To revoke your slack integration with Functionly, head to Slack in your browser and find Manage>Apps. There you should be able to find Functionly in your list.


Once you've clicked 'Functionly' you will see options to either revoke your individual connection, or remove Functionly entirely from your organization - depending on your Slack administration permissions.


Upload via CSV, Google Sheet, Excel, or Copy and Paste
Firstly, you will need a data sheet of your people. You can download a CSV template here (which you can open with Google Sheets, Excel, or Numbers).
The people data you need is as follows for each employee or person you want to import to Functionly:
- First Name
- Last Name
- Full Name
- Email
- Job Title
- Team Name
- Manager full name
*- Location
*- FTE (Full time equivalent)
* indicates non compulsory
The above data is usually extractable via your HRIS system.

This short video will get you started with uploading your people using a CSV (Excel, sheets, or copy and paste in formats).
Once you have the data listed above, you are ready to go. Click 'Upload CSV' to import your people onto a blank Org chart (useful when you want to start designing restructures), or select the 'import org chart' tick box for Functionly to automagically create your org chart using the team / department names you have in your CSV file.
*You can do this step many times for different or new scenarios. When you need to update your existing team, simply import a new CSV file in an already existing scenario. Functionly will find duplicates and exclude them from the list, meaning only new people will be imported.
Note: if you want to copy and paste, you can do so by clicking 'upload CSV' and skipping ahead to the sheet view. You will find the sheet to be editable in-line.