If you're working separately with subsidiary organizations, investee companies in your portfolio, or if you're a consultant working with separate client projects, we've got you covered with multiple workspace access.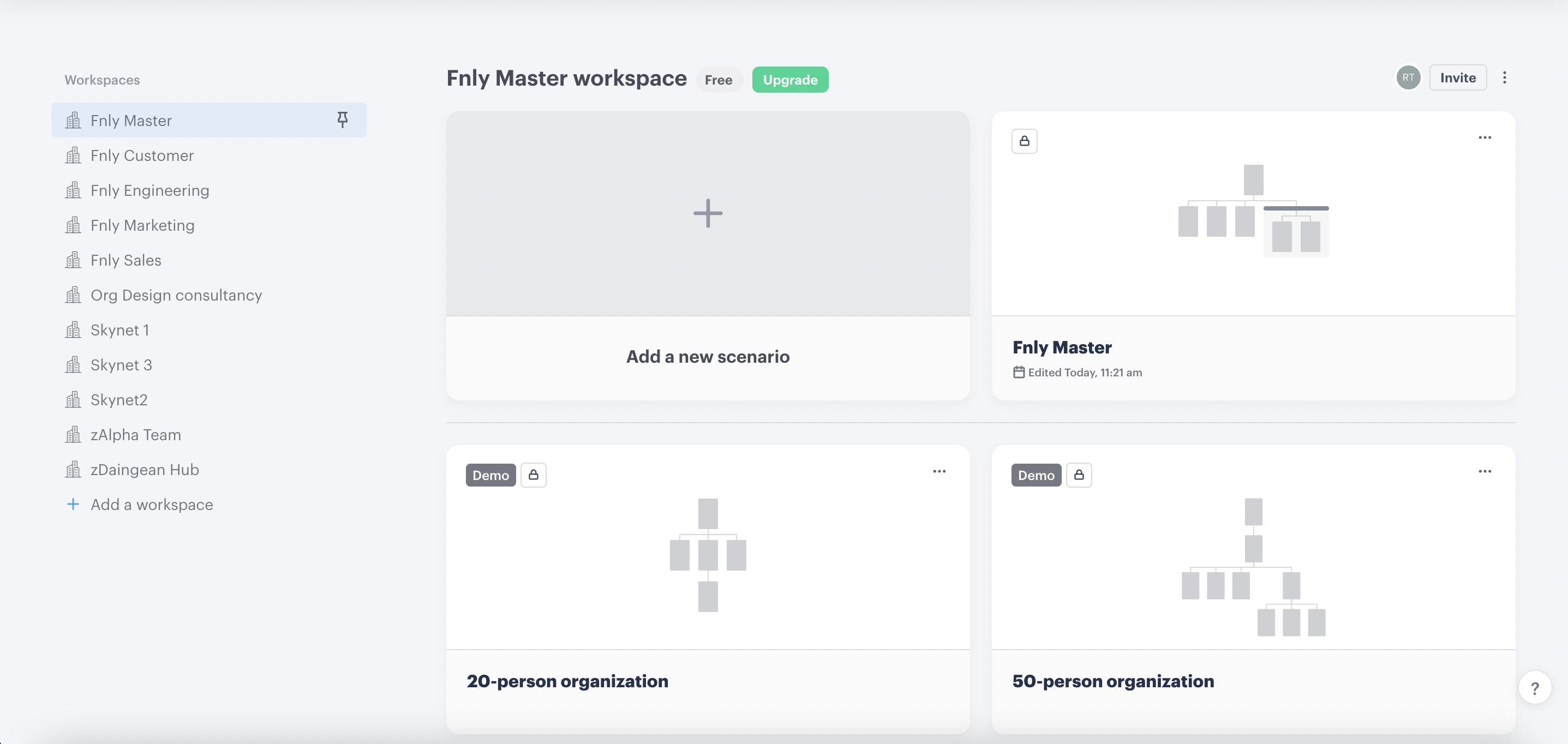 Creating separate, partitioned workspaces for different pieces of work ensures that only the people invited to those workspaces can see, copy or share the scenarios and people within.
Contents:
1. Create a workspace
In this section:
Add a workspace
To add a new workspace click "+ Add a new workspace" on the left-hand side of your homepage or the ellipsis in line with the workspace name near the top right of your homepage.
Billing (if applicable) will be at the rate of the plan that's chosen when the workspace is created, so if you choose a Free plan then the workspace will be free, or for a Starter or Team plan, it will come with a 22-day free trial and then be billed at the rate of that plan.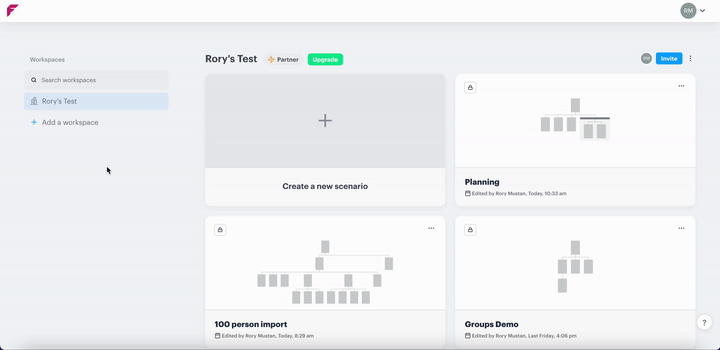 Invite a collaborator
Whenever you add a new workspace, you can invite a collaborator at the point of creation. Add their email to the invite field on the "add workspace" modal and they'll receive an invitation to the new workspace.
Note: In order for other collaborators to see your scenarios you must share them using the share button inside any scenario.
---
2. Manage workspaces
In this section:
Open a workspace
You can open any workspace by clicking on the workspace name on the left-hand side of your homepage. To access your homepage anywhere in the product simply click the pink F in the top left of your browser.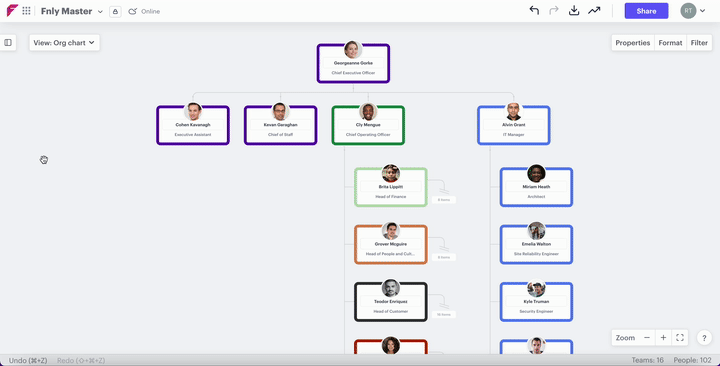 Pin workspaces
If there are workspaces that you're using more frequently than others you can pin them so that they move to the top of your list. Click the pin icon next to the workspace name and it will rise to the top of your list, click the pin icon again and it will move back down below your pinned scenarios.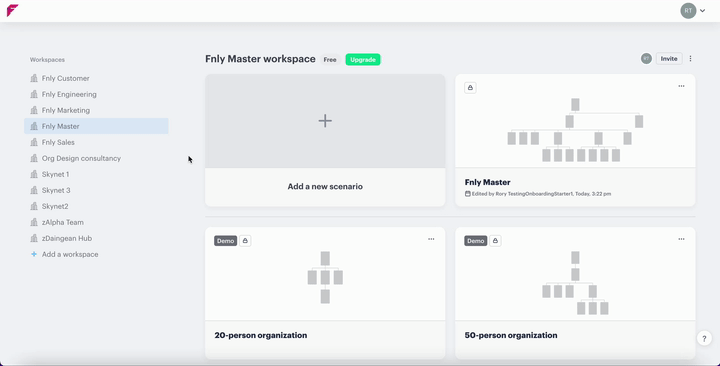 Focus on a workspace
If you're presenting org design work to a particular audience or client you can hide other work by clicking the toggle next to the specific workspace. This will give you a view of just that workspace, its scenarios and your other workspaces list will no longer be visible on the left.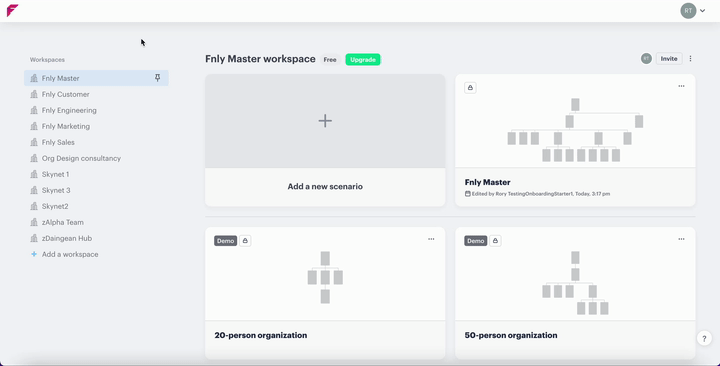 Rename a workspace
To rename any workspace click on the name in your list to load it first, then click the ellipsis in line with the workspace name, and select rename workspace.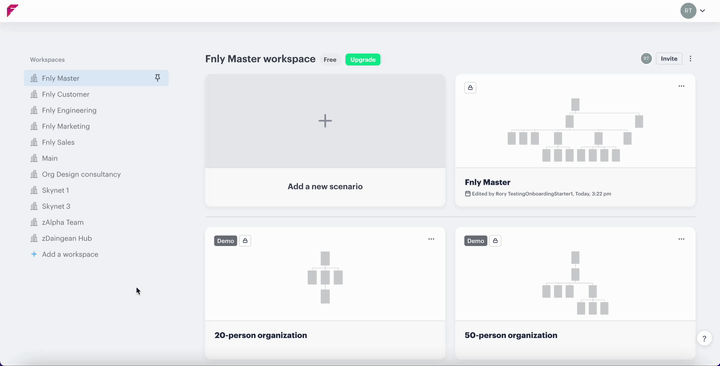 Leave a workspace
If you no longer need to be a collaborator in a workspace then you can remove yourself by clicking the ellipsis in line with the workspace name and selecting "Leave workspace". This will mean that you are no longer counted as a collaborator; you won't count towards billing or be able to edit any scenarios. You can only choose to leave if there is at least one other collaborator in the workspace.
If you leave a workspace other collaborators in the workspace will lose access to any scenarios you created. Before you leave they should make copies of any scenarios that they want to retain access to.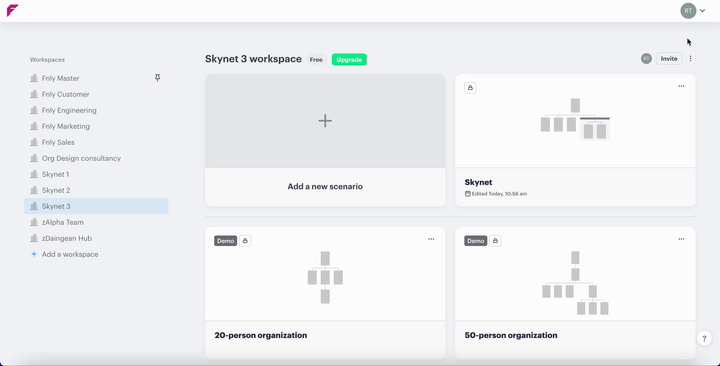 Archive a workspace
To archive a workspace click the ellipsis in line with the workspace name on your homepage and select "archive". Once archived you and any collaborators will lose access to workspace, any scenarios and any links that have been created will be invalidated.