Quickly import people, co-create and share your organization chart in 3 steps
Let's go from zero to org chart hero in less than 10 mins! Follow this guide to:
Understand what's next: Grow from org chart hero to org design geek!
👀 Check out this live demo chart below for a sneak peak of what you can create in Functionly.
---
Step 1: Import people
After signup, a new org scenario is automatically created and you're presented with choices for importing people.
💡 For smaller companies, or if you're looking to quickly build only a small team scenario, choose "skip" on this screen and manually add people.
💡 If you're not ready to import or add your own people, but want to see how Functionly works, use the "Use an existing list" option to import demo people from an existing Functionly example scenario.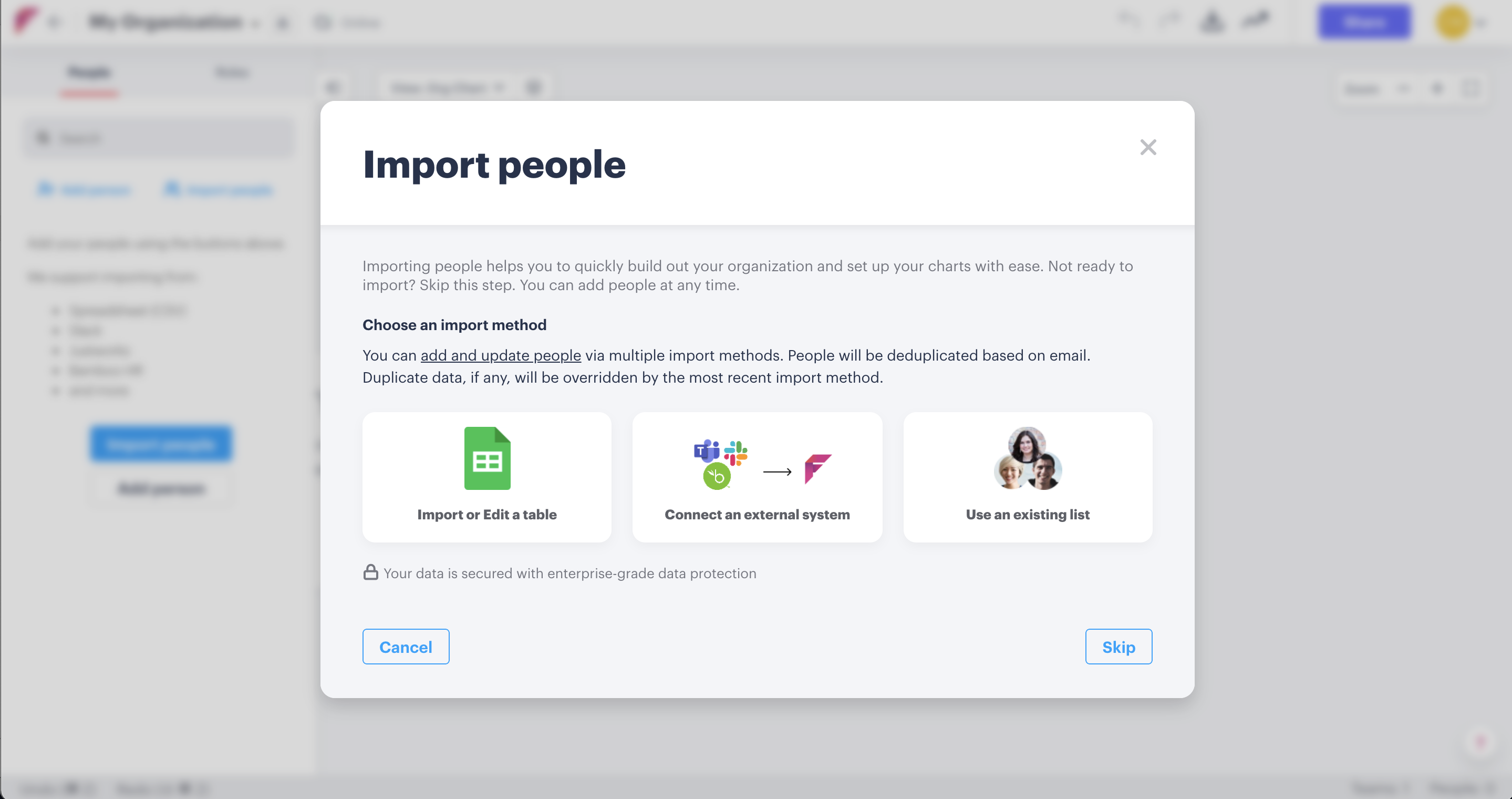 Import or edit a table
Choose this option if you have a list of people and relevant details in a spreadsheet or data file, including .csv, .tsv and .txt. Often, this data can easily be exported from your existing HRIS system. Once you have your data, you can import your CSV file, or directly copy and paste into our template.
📄 Read more details about importing people from a spreadsheet.
Connect to an external system
Functionly's paid plans connect with a number of common collaboration and HRIS systems so you can easily import people.
The Free Plan offers connection to Slack only. If your organization uses Slack, you can import your people, and pictures and quickly assemble your Org Chart as it is today.
📄 Read more about importing people from an integration.
Use an existing list
This option is used to import people from a scenario you may have created previously. Given you've just signed up for a Free Plan, you probably don't have an existing scenario. However, you can choose this option to quickly import a bunch of "demo" people from pre-loaded example scenarios.
Manually adding people
From the left menu, choose the "People" tab and click the "Add person" button. Enter the person's full name and Title. For example, "Carol Winterbourne" and "CEO". Then click "Create".
The person you created will now exist in the People picker tab.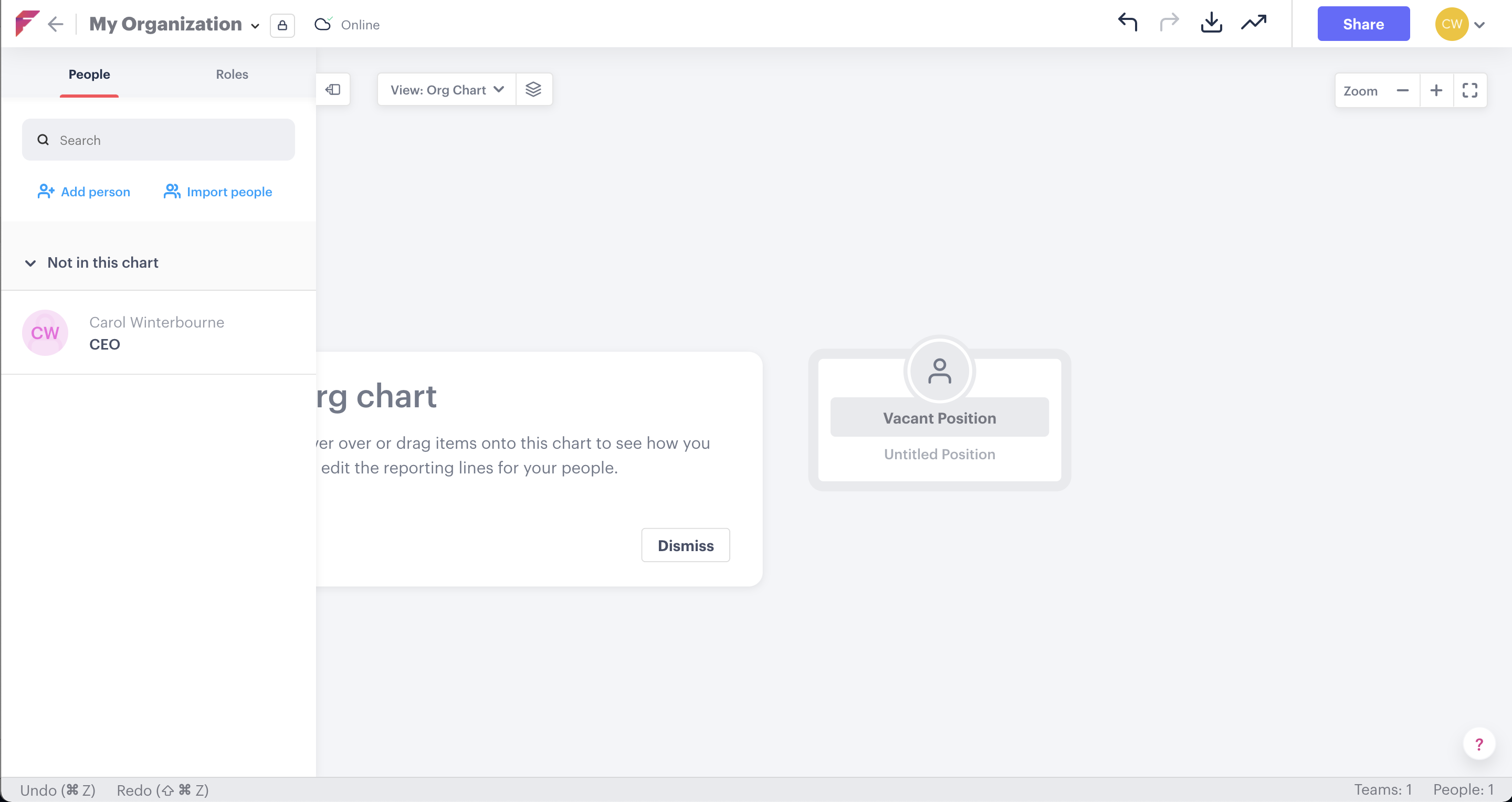 You can add more people by again clicking "add person" and repeating the process.
---
Step 2: Inviting a collaborator and building your org chart
The Free Plan allows you to invite another collaborator to your workspace and scenarios. This is useful to:
Share the load of building your org chart with someone else - particularly if they lead a different department to you and have greater knowledge of their team structure.
Delegate the updating of your org chart to a colleague once you've created it.
Allow a colleague to create their own org chart scenarios, for planning purposes for example.
Enable both you and a collaborator to work on the same charts at the same time.
Plan future scenario options for your organization in a safe and secure environment.
How to invite a collaborator
This quick video shows how to invite a collaborator to a specific scenario or your workspace.
Start building your org chart
👀 Check out this interactive video to see examples of co-creating an org chart and to learn more about collaboration use cases. For the best experience, watch the video in full screen by selecting the "full screen" option in the bottom right corner after commencing the video.
Note: some features in this video are only available in the Team Plan.
📄 Read more: Building your org chart in the free plan.
---
Step 3: Share and export your org chart
Once you've created an org chart, it's common to share it with colleagues or consultants, or to export it for use in a presentation or report.
Let's show you how to do both.
Scenario link sharing
In Functionly, you're able to create and share a scenario link or URL to specific org chart scenarios in your workspace. These work much like you may have experienced with sharing links to files on Google Drive or Microsoft Onedrive.
The link allows people an interactive view-only version of your chart.
📄 See all the details about how to use link sharing.
It's also possible to embed your org chart into some websites such as Notion or Confluence using your live link. 💡
Export your org chart
Free plan users are able to export org charts to a high-res PDF. To do this, simply click the "export" icon in the top menu bar within a scenario:
Hey, congrats! 👏🎉👏🎉👏🎉👏🎉👏🎉👏🎉
You've come to the end of our getting started guide. By now, you should have a great looking org chart, on which you can collaborate with a colleague and that you've shared to others with a link or as a PDF file.
What's next?
You can continue to use the free version of Functionly to maintain your org chart, create new org chart scenarios for planning, and communicate your org chart through link sharing and PDF export.
Functionly is much more than an org chart tool. Read below to discover how you can use a Functionly subscription to grow from org chart hero to full blown organization design geek and make winning moves along the way.
---

Understand what's next: Grow from org chart hero to org design geek!
🤗 You beat us! We're still writing this section... In the meantime, watch the plight of Gary, the consultant.